Dr Keith Bothongo, the first black South African to be registered as a property valuer and a recent recipient of an honorary doctorate degree from the North-West University (NWU), pledged to sponsor 10 NWU students per year for 2020 and 2021.
Dr Bothongo committed to sponsor students in the fields of agriculture, veterinary and zoology studies.
Through the Keith Bothongo Foundation, which he founded with his wife in 2011, Dr Bothongo has funded more than 70 students from underprivileged backgrounds on full scholarships at various universities throughout South Africa. Six out of the 70 are NWU students.
Dr Bothongo says he had always had the urge to help students from disadvantaged background as he was once in the same situation.
"We have a structured organisation that engages on various projects to give back to the community, and to help educate and uplift disadvantaged youth to be able to sustain themselves," he explains.
Dr Bothongo says his investment should reflect optimism as he is a great believer in the future of South Africa, not just to build business, but to shape people and communities.
"We are proud that with the support of the Keith Bothongo Foundation, many young people have achieved their dream of a good education and are ready to make a difference in South Africa.
We also hope that the students that we will fund at the NWU in the next two years, will give back to South Africa by contributing to the National Development Plan," adds Dr Bothongo.
Dr Bothongo himself is a staunch believer in education. He has a bachelor's degree in economics and statistics, master's degrees in administration and international management, as well as an LLB degree. He is currently enrolled towards a doctorate in business administration at the Swiss Business School in Zurich, Switzerland.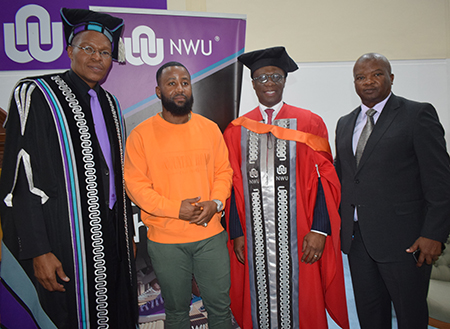 Prof Dan Kgwadi, NWU vice-chancellor, Cassper Nyovest, Dr Keith Bothongo and Bantu Holomisa during the recent graduation ceremony where an honorary doctorate was conferred upon Dr Bothongo.