The South African Institute of Industrial Engineers (SAIIE) held its first annual student competition this year, and two students from the North-West University's (NWU's) Faculty of Engineering walked away with the spoils.
The competition was open to all tertiary students in industrial engineering who are members of the SAIIE. Nine entries were submitted, and the top three teams presented their solution to a panel of SAIIE members.
According to winners Njabulo Mhlungu and Nosisa Ngcaba, the competition focused on "Solving the problem of plastic bottle lids that reach our beaches and oceans", and required participants to solve a real-life problem using industrial engineering (IE) skills and tools.
They came up with the idea of a vending machine that can be placed on or near beaches to encourage the public to do their part in conserving and protecting our beaches.
People should pick up bottle caps and lids from the beach, clean them and then insert into the vending machine that will weigh it. A certain price will then be allocated according to the density and quantity of the bottle caps, and the individual will receive a voucher/coupon/beverage equivalent to their contribution.
Nosisa says the competition provided her with the opportunity to put some of the IE skills she gained so far into practice and to engage in extracurricular activities. Since she grew up on the coast, the issue they were attempting to resolve was one that she had experienced firsthand and frequently.
"Having taken part in numerous beach clean-ups, I was aware that our answer needed to be more practical, long-lasting, and sustainable for future generations. These issues are undoubtedly covered by our vending machine solution. It would be a fantastic opportunity for us to actually build our vending machine and see it in use throughout the coastlines and perhaps even inland," she adds.
As the winning team, Njabulo and Nosisa had the opportunity to attend and present their solution at the SAIIE annual conference that took place from 3 to 5 October in Durban.
"The conference consisted of numerous research presentations, workshops and keynote presentations. We presented our solution at the gala dinner to all SAIIE members, and we are pleased to say that it was received very well and we are currently awaiting assistance and funding to implement our solution," says Njabulo.
More about the SAIIE and its student competition
The South African Institute of Industrial Engineers (SAIIE) draws upon specialised knowledge and skills in the mathematical, physical, behavioural, economic and management sciences and fuses them with the principles and methods of engineering analyses and design to find optimal and practical solutions. This contributes to the success and prosperity of an industrial undertaking, thereby making a fundamental contribution to the creation of wealth.
The SAIIE student competition provides an excellent opportunity for students to network with both experienced industrial engineering professionals and their peers. It is also a platform to demonstrate innovation, knowledge and skills on the big stage.
Watch Nosisa and Njabulo's winning presentation here. (time code 15:40)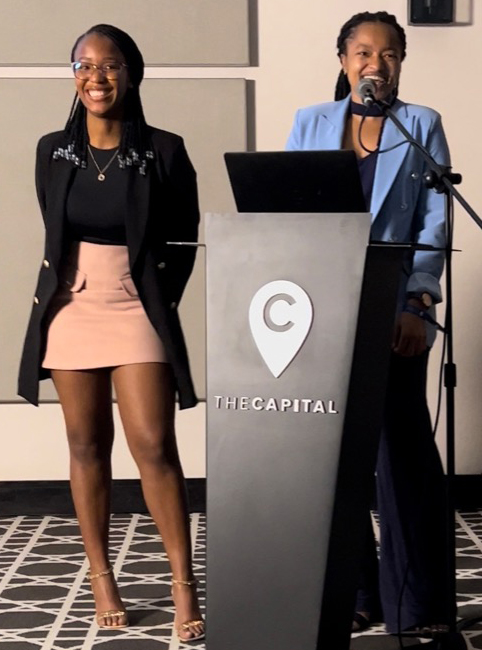 Njabulo Mhlungu and Nosisa Ngcaba present their winning solution at the SAIIE annual conference.