North-West University (NWU) coach Karabo Masehela says they are ready to reclaim the Varsity Football cup from the University of Johannesburg when they meet in the semi-final at the UJ Stadium on 15 September 2022.
"UJ beat us in the fifth round-robin game of Varsity Football by two goals to one, and my boys are ready to go all out to take revenge for this loss.
"Once beaten, twice shy... we are going out there to reclaim what is ours," says coach Karabo.
"We have been working hard from the onset, hence we know the magnitude of the game and how important it is for the university to reclaim the cup," he adds.
NWU captain Tshepiso Mahlangu predicts a close game against UJ, but believes his team is prepared and motivated to win.
"Everyone is pumped up and ready to go, and we are happy with how far we have come. We would be even happier if we could go all the way to the finals and represent the NWU and our supporters who have been behind the team all the way," says Tshepiso.
Should the NWU manage to beat UJ in the semi-final, they will reach their second Varsity Football final. The first was in 2019, which they eventually won.
The semi-final game of the NWU and UJ will kick off at 19:15 and will be televised live on SuperSport4.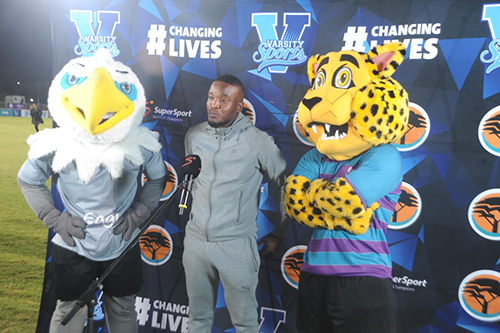 NWU mascots Eagi and Mahika share the limelight with coach Karabo Masehela.