North-West University (NWU) academics recently attended an international conference themed "The Russia–Ukraine Crisis and its Impact on Africa".
The conference, jointly organised by the Institute of African Diaspora Studies (IADS) and GLOTAN Research Services at the University of Lagos, Nigeria, took place on 16 and 17 November 2022.
The NWU delegation from the Faculty of Humanities included Prof Aaron Tshidzumba, deputy dean for community engagement and stakeholder relations, Prof Victor Ojakorutu, deputy director of the School of Government Studies, Prof Costa Hofisi, director of the research focus area Afrocentric Governance of Public Affairs, and Dr Mooki Lobelo, deputy director of the School of Communication Studies.
The major aim of this conference was to advance global and regional peace and prosperity through a multi-disciplinary knowledge network on the impact of the Russia-Ukraine war on Africa, and through which fundamental questions about Africa-Europe or African-West relations can be addressed.
The keynote speaker at the conference was NWU alumnus Dr Jacob Moroe, the consul general at the South African High Commission to Nigeria.
He spoke on "Navigating the food security threat of the Russia-Ukraine War through food sovereignty in Africa".
Prof Muyiwa Falaiye, director of the IADS at the University of Lagos, said despite the growing consequences and implications of this war, as well as responses in developed countries to mitigate the associated problems of the Russia-Ukraine crisis, Africa is hugely affected and unresponsive.
"Economic opportunities are also continually shrinking as a result of the Russia-Ukraine war. The eradication of the implications of this war, including poverty, inflation, high food prices and malnutrition, is among the contemporary problematic issues facing the international system.
He said that it is imperative that scholars and larger society connect to contribute to the sustainability and advancement of Africa.
The NWU delegation accompanied by consul general Dr Moroe also visited the vice-chancellor of the University of Lagos, Prof Folasade Ogunsola, to explore possible collaboration between the NWU and the university.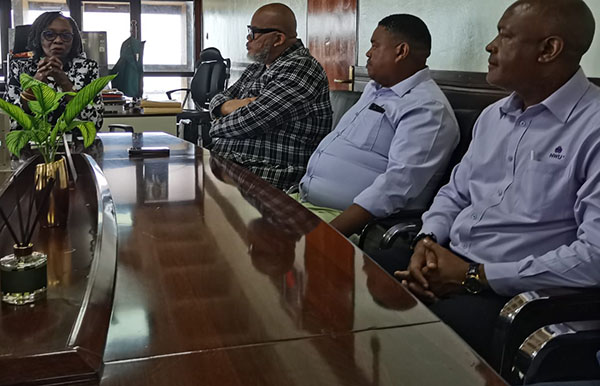 University of Lagos vice-chancellor Prof Folasade Ogunsola, consul general of South Africa in Lagos Dr Jacob Moroe, and Dr Mooki Lobelo and Prof Aaron Tshidzumba from the NWU.