The North-West University (NWU) Debating Union on the Mahikeng Campus is dedicated to maintaining the existing skills of public speaking, debating, and critical thinking, and cultivating and maturing these skills in those who would like to learn.
This is according to Kgopotso Sekgobela, chairperson of the union.
The union has consistently received positive reviews of the annual first-year debate tournaments they host to introduce first-year students to university debating.
This year, the tournament was hosted in accordance with the World Schools debating format, in which all the faculties and the Mafika team were to construct a rationale for the match.
Eight teams debated in the preliminary round, but only two teams – those from the faculties of Education and Humanities – advanced to the final round.
The Education team was declared the overall winner with their motion to legalise mob justice for gender-based violence crimes.
"It's always good to see young, new talent in the purple team – we hope they will thrive," said chief adjudicator Sandile Mbizeni.
"This tournament aims to prepare first-year students for the main annual competition where they will participate along with senior students. We are looking forward to increasing the number of participants this year as we are expanding the competition across all three campuses. We are also grateful to the Student Life division for supporting us and funding our initiatives," adds Kgopotso.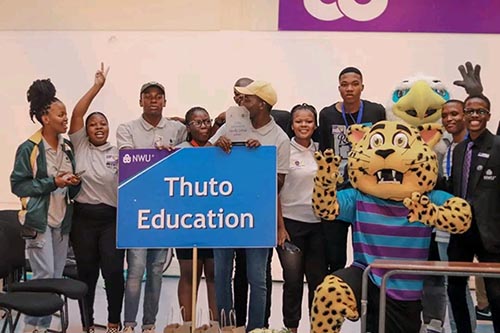 The Faculty of Education team walked away with the spoils during the annual first-year debate tournament.