The North-West University (NWU), in collaboration with the Department of Cooperative Governance and Traditional Affairs (COGTA), pledged 100 graduates to assist the local government with a turn-around strategy on 22 June 2023.
This partnership aims to deploy 100 postgraduate students from various fields to assist different municipalities within the North West province.
Acting premier of North West province and COGTA MEC honourable Nono Maloyi says several municipalities in the North-West are currently facing challenges that affect their service delivery to communities. As an initial step, the deployment of these graduates will form part of the incremental implementation of this collaborative effort to assist municipalities around the province.
"COGTA chose the NWU as a strategic social partner, and as part of the university's commitment, the NWU pledged approximately 700 graduates from diverse disciplines to support municipalities, helping in various business functions while gaining valuable professional experience," said MEC Maloyi.
Representing the NWU's vice-chancellor, Prof Daryl Balia, the deputy vice-chancellor for information technology and Potchefstroom Campus operations, emphasised the priority of strengthening relations with municipal and provincial government.
"The placement of these 100 NWU graduates at our 22 municipalities represents the culmination of extensive discussions between the NWU and COGTA. It brings me immense pleasure to witness one of the key plans derived from our fruitful discussions come to reality," said Prof Balia.
"Undoubtedly, this initiative will contribute significantly to the social impact we aspire to achieve within our communities. These graduates are future leaders and bear a crucial responsibility in serving the very communities they come from. We hope that colleagues in various municipalities will warmly embrace our graduates and provide them with the necessary support wherever required," he added.
Prof Balia further said that the NWU is currently reviewing its strategy. "One of our primary strategic priorities shines with clarity: we aim to become a hub of solutions to the challenges encountered by our government and communities, thereby driving the realisation of the National Development Plan and other national and international frameworks.
"Our university proudly boasts expertise across all its faculties, which I implore the government to leverage. Our researchers from diverse disciplines have conducted extensive studies on the challenges experienced by our municipalities and provincial government, offering scientific solutions to address these issues. Considering recent reports such as the Auditor General report, I firmly believe that as a university, we still have much to contribute," said Prof Balia.
One of the graduates who is being deployed to Madibeng Local Municipality, Mponeng Mokgethi, says she is a proud NWU student and graduate.
"I am grateful for the given opportunity and platform to participate in this COGTA project."
Lebogang Dikhudu, another graduate, says she is grateful to be one of the 100 graduates. "The phone call changed my life as I was unemployed. Thank you COGTA for this opportunity. I guess studying with NWU was the greatest choice of them all because I wouldn't be here if it wasn't for the university."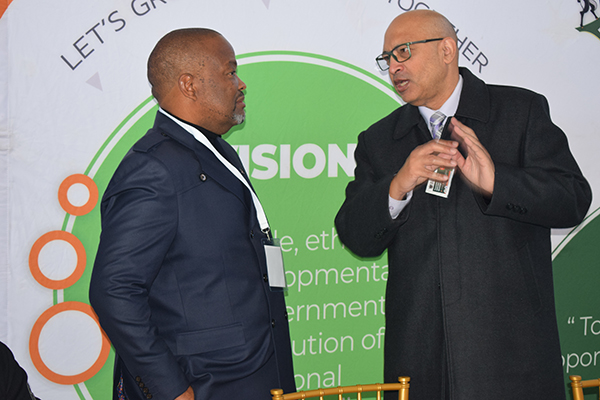 Nono Maloyi, acting premier of the North West province and MEC of the Department of Cooperative Governance and Traditional Affairs, and Prof Daryl Balia, the NWU's deputy vice-chancellor for information technology and Potchefstroom Campus operations.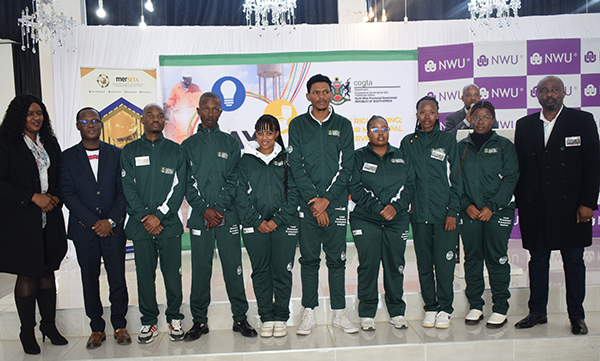 NWU graduates that were seconded to the Mahikeng local municipality with the mayor, Cllr Tshepiso Mphehlo.