Hosting several events, the North-West University (NWU) recently celebrated international Open Education Week from 2 to 6 March 2020. 
The global celebration aims to raise awareness and showcase the impact of open education on teaching and learning worldwide.
The NWU's Centre for Teaching and Learning and the UNESCO Chair on Multimodal Learning and Open Educational Resources (OER*) arranged a colloquium and three public sessions on the three campuses.
The colloquium, presented by Gino Fransman, focussed on existing OER practices at the NWU as well as student OER advocacy, as being implemented at Nelson Mandela University.
Prof Rory McGreal from Athabasca University in Canada, who is also the UNESCO/ICDE Chair in OER, presented workshops on OER and open licencing. He also provided participants with examples of OER and told them why they are essential and how they can be effective in promoting quality education.
"The free sharing of open educational resources is essential for promoting the creation of content for use in global education or in any other learning context, both classroom-based and online," said Prof McGreal.
Prof Jako Olivier, holder of the NWU's UNESCO Chair, said that higher education institutions worldwide continue to face significant challenges related to providing increased access to high quality education, while containing or reducing costs.
"New developments in higher education all speak to the efforts on the part of the traditional higher education community, as well as more flexible providers such as open universities, to address these challenges.
"Such developments have the potential to increase access and flexibility in higher education. Basic education for all continues to be a goal that challenges – and will continue to challenge – many countries," he added.
* OER are freely available and openly licensed resources (e.g. online or printed texts, videos, podcasts, games, etc.) that can be effective in reducing the knowledge divide that separates and partitions societies.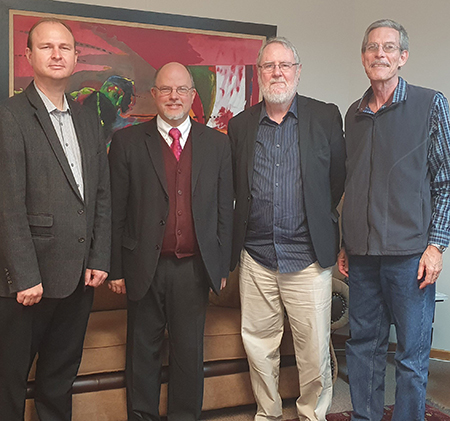 Attending the NWU Open Education Week celebrations are Prof Jako Olivier, holder of the NWU UNESCO Chair on Multimodal Learning and OER), Prof Robert Balfour, deputy vice-chancellor for teaching and learning, Prof Rory McGreal, holder of the UNESCO/ICDE Chair in OER from Athabasca University, Canada, and Rassie Louw from the Centre for Teaching and Learning.