Two academics from the North-West University (NWU) were recently featured in Avance Media's 100 Most Influential Young South Africans list for 2020.
Dr Lerato Moekoena and Dr Lebo Gafane-Matemane were recognised for being the best in their respective fields.
The list, put together by public relations firm Avance Media, was released on 17 March.
The focus for 2020 was on revealing the most hardworking and outstanding individuals who stood tall in their businesses and careers amid the Covid-19 pandemic.
Dr Moekoena is one of only three women in SA
Dr Moekoena obtained her PhD in theology with specialisation in Old Testament studies in 2020 at the age of 27, and is a lecturer at the School of Christian Ministry and Leadership in the Old Testament in the Faculty of Theology. 
She is currently only the third black woman in South Africa to hold a PhD on this particular subject.
"I am greatly honoured. I feel very happy and privileged to be counted and recognised among so many great fellow South Africans. It feels good when all my toil and labour are affirmed," says Dr Moekoena. 
She says she is especially proud of being announced as one of Mail & Guardian's Top 200 Young South Africans for 2020 in the Education Category, and also for being inducted into the Dean's list at her alma mater in 2017 for obtaining her master's degree in theology cum laude.
Dr Gafane-Matemane is an award winning academic
Dr Gafane-Matemane joined the NWU as a master's student in 2013 and then as a lecturer in 2015. She is currently a senior lecturer in the subject group Physiology and a researcher in the Hypertension in Africa Research Team.
She says making it to the top 100 came as a big surprise.
"I am happy that someone nominated me and my profile stood out as one of the top influential young South Africans for 2020," says Dr Gafane-Matemane.
She holds a BSc degree in molecular and life sciences, an honours degree in physiology (cum laude), a master's degree in physiology (cum laude), and a PhD in physiology.
Dr Gafane-Matemane has a long list of awards to her name, but she is most proud of being awarded the NWU's Emerging Teaching Excellence Award in 2020, the 2020 Inspiring Fifty South Africa Winner, and now making it to the 2020 Mail & Guardian Top 200 Young South Africans list.
The NWU congratulates these two inspiring academics on flying the NWU flag high.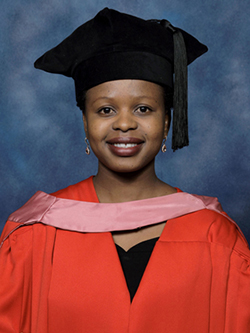 Dr Lebo Gafane-Matemane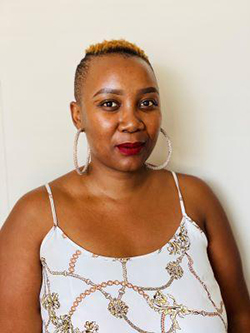 Dr Lerato Moekoena