The North-West University (NWU) Council appointed Dr Anna Mokgokong, renowned business leader and entrepreneur, as its third chancellor during its meeting on 20 June.
As chancellor she will serve as titular head of the NWU. All qualifications awarded by the university are formally conferred by the chancellor.
She follows in the illustrious footsteps of Kgosi Leruo Molotlegi, King of the Royal Bafokeng Nation, and Dr Popo Molefe, former Premier of the North West Province and now chairperson of Transnet. The outgoing chancellor, Kgosi Leruo Molotlegi served for two consecutive terms as the NWU's chancellor. His first term started in 2009 and the second in 2014. Throughout his time as chancellor, Kgosi Molotlegi emphasised the importance of ensuring a mutually-beneficial process of learning between the university and the community.
Dr Mokgokong, who is at the helm of Community Investment Holdings (Pty) Ltd, of which she is also founding chairperson, is a true social activist and has made an immense contribution to the transformation of the companies on whose boards she serves. She is a senior director of five listed companies on the Johannesburg Stock Exchange and chairperson of three of those.
In addition to her extensive business knowledge and acclaim for her entrepreneurial ability, she has served as president of the South African Women Entrepreneurs Network (SA WEN) and in the International Women's Forum of South Africa (IWFSA). Dr Mokgokong was inducted in the Women Entrepreneurs of the World, an independent, international network of the world's powerful and successful entrepreneurs in 1998.
Her other accolades include receiving the prestigious SA Businesswoman of the Year Award in 1999. In 2015, the Department of Trade and Industry, in partnership with Proudly South African and Brand South Africa honoured Dr Mokgokong with a Lifetime Achievement Award at the South African Premier Business Award ceremony.
She is also a popular public speaker with a keen interest in community development and women empowerment.
Dr Mokgokong obtained a BSc from the University of Botswana, and an MBChB from the Medical University of South Africa. She is the first woman to receive an honorary doctorate of commerce from Unisa.
"I look forward to serving the NWU to my best ability, and I thank all who were responsible for my nomination leading up to my appointment. I receive this with profound humility and pray to God that I can meet the expectations not only of the university but also its key stakeholders, the youth," says Dr Mokgokong.
Details about her inauguration, which will take place later this year, will be communicated in due course.
Dr Bismark Tyobeka, Council chairperson, congratulated Dr Mokgokong on her appointment and expressed confidence in her ability to represent the NWU and take it to even greater success.
"We are indeed honoured and excited to have Dr Mokgokong as part of the NWU family and look forward to tap into her wealth of knowledge and experience, expertise as well as her international personal network in our endeavour to be an internationally recognised university in Africa, distinguished for engaged scholarship, social responsiveness and an ethic of care."
He thanked Kgosi Molotlegi for his valuable contributions to the NWU and its activities.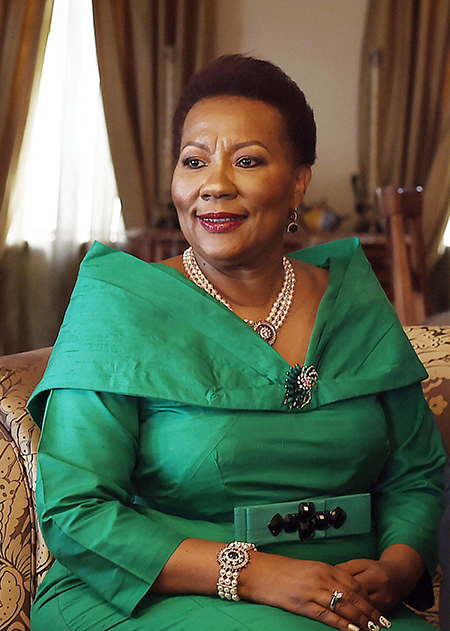 Dr Anna Mokgokong, renowned business leader and entrepreneur, is the NWU's third chancellor.
Issued by NWU Corporate Relations and Marketing