In a thrilling first-round match of the Varsity Football tournament, the North-West University (NWU) and the University of Johannesburg (UJ) showcased their prowess on the pitch, ultimately sharing the spoils in an intense 0-0 draw.
The highly anticipated clash took place on Thursday, 27 July at the NWU Mahikeng stadium, where both teams were determined to kick off their campaign with a victory.
The encounter proved to be a nail-biting affair, with both the NWU and UJ displaying their tactical brilliance and defensive resilience. Throughout the match, the players exhibited their technical abilities, making it challenging for either side to break through the opposing defence.
The crowd was treated to an enthralling spectacle as each team relentlessly pushed for a breakthrough, but the goalkeepers and defenders stood firm to deny any scoring opportunities.
One critical moment came in the 44th minute when UJ was awarded a penalty after a contentious challenge in the box. Anticipation filled the stadium as player number 18 stepped up to take the spot-kick. Unfortunately for UJ the opportunity was squandered as the ball sailed wide of the mark, much to the relief of the NWU faithful.
NWU coach Amos Xabanisa says they expected this kind of game from UJ. "They are a good team. They always give us a tough time, but I am happy we didn't disappoint our supporters in our first home game."
UJ coach Karabo Mogudi says he is happy with a draw. "We squandered a scoring opportunity when we missed the penalty, but that is water under the bridge."
As the final whistle blew, the scoreboard remained unaltered, signifying the hard-fought deadlock between the two well-matched teams. While the NWU and UJ may have missed the chance to secure a win in their opening fixture, the determination and skill displayed on the field bode well for their future encounters in the tournament.
Football fans can eagerly anticipate more exhilarating clashes and surprises as the Varsity Football competition unfolds.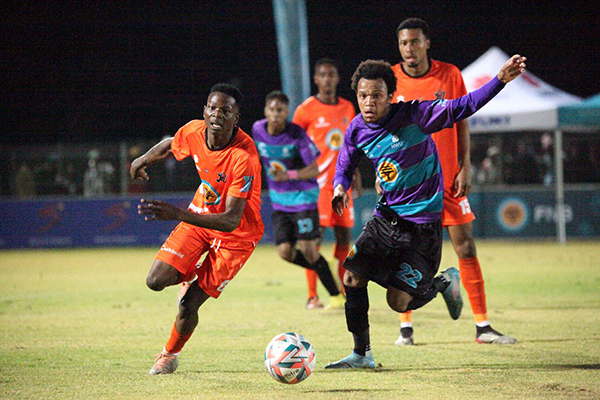 NWU player Lesego Motsepe during the recent Varsity Football game against UJ at the NWU Mahikeng Stadium.