North-West University (NWU) alumnus and a decorated operatic baritone Tshilidzi Ndou is brimming with pride after winning the pre-professional division of the prestigious George Shirley Vocal Competition: African American Vocal Repertoire.
A highlight of the competition was his performance of the Genius Child, a winsome rendition of Robert Owens.
Born and raised in Soweto, Tshilidzi holds a diploma in music and a BA degree in music and society from the NWU, as well as a performers diploma in voice from the Southern Methodist University (SMU) in Dallas, Texas (USA). He recently graduated cum laude from SMU with a Master of Music degree in vocal performance, under the tutelage of Prof Barbara Hill-Moore. 
For the 29-year-old currently working with Dallas Opera, this is not the first competition he has won. He has walked away with many prizes from national and international competitions, including first place district winner in the Mary E Singletary National Vocation Arts Competition in 2021. He also scored first place at the National Association of Teachers of Singing nationals in 2020, and was announced the Legacy Award winner at the NOA 2022 Carolyn Bailey Argento Vocal Competition, among others.
Talking about his recent win Tshilidzi says he is elated.
"This is quite epic for me, and it's great to have this as validation. I didn't expect to win because the other competitors were so good," he reveals.
Tshilidzi, who comes from a musical family, started his music journey in Soweto. He immersed himself in countless opportunities from a young age, singing in choirs as a soloist and assisting in conducting ensembles. 
He credits these experiences with helping him progress as a singer and preparing him for the rigours of performing and competing. He was introduced to opera music in 2008, and he says the combination of skills and experiences he gathered, prepared him for his graduate studies and helped to shape his eclectic but focused career.
Since 2009 he has performed at major international events, and he has sung many leading roles in large-scale operas in South Africa and America.
Tshilidzi says he would not have reached this stage were it not for the help of Prof Hill-Moore and his mentor Prof Conroy Cupido, an associate professor for singing and opera at the NWU.
He says Prof Cupido helped him get performance opportunities and assisted him in gaining admission to his current university.  
After receiving his qualification from the NWU, Tshilidzi envisioned going overseas to pursue his studies, but it wasn't clear how to put together the resources.
"Through the assistance of Prof Cupido, I was accepted by the SMU, his alma mater. I am forever indebted to him for this opportunity," he says, adding that the high level of educational opportunities and the nurturing environment he experienced at the NWU were true gifts in his life.
He is setting his sights on being a music mentor when he returns to South Africa.  
"I want to help create performance opportunities for music students and want to make opera accessible to a wider audience.
"I am so grateful for the variety of experiences I had in America. I had the opportunity to sing with so many groups and ensembles and to take on leadership roles that helped shape who I am as a musician," he says.
Tshilidzi will be joining Utah Opera in Salt Lake City, USA in September.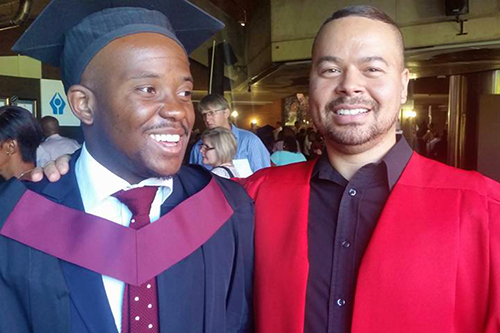 Tshilidzi Ndou with his NWU mentor, Prof Conroy Cupido.