Khululwa Nosipho Shibane, North-West University (NWU) alumnus and an educator at Christinah School for the Blind and Partially Sighted, came second in the category Excellence in Special Needs Teaching in the North West provincial segment of the National Teaching Awards that took place on 7 October 2022.
This was not her first accolade. Khululwa also represented the Christiana School in 2020 in the same category at that year's National Teaching Awards.
She came first in the sub-district and proceeded to the district level where she scooped the first position again. She later went on to represent the Dr Ruth Segomotsi Mompati district at provincial level in August 2022.
Khululwa says the competition has revealed strengths and capabilities that she did not know she possesses. "It was very tough, but as I proceeded to higher levels, I discovered that I am a strong and resilient teacher. The competition made me fall in love with my profession even more. It made me realise the great impact I have on my learners and the community.
"This award confirms that I should continue bringing the best out of my learners, despite their disabilities," adds Khululwa.
Khululwa holds a BEd degree from the NWU and teaches mathematics and mathematical literacy for Grades 9 to 12.
She is currently registered for a BEdHons degree in special needs education at the University of Pretoria.
More about the National Teaching Awards
Through the National Teaching Awards (NTA), the Department of Basic Education aims to acknowledge the extraordinary efforts made by excellent teachers.
The awards were conceptualised and launched in 2000 and now enters its 22nd year of implementation. The nomination process starts at schools where the schools' nomination teams select teachers for the various categories. The names of the selected teachers are forwarded to the districts that select district winners through a process of adjudication.
The final phase is the selection of national winners by a national adjudication panel. After the national winners have been selected, their names are announced during a national ceremony hosted by the Minister of Basic Education and addressed by the South African President.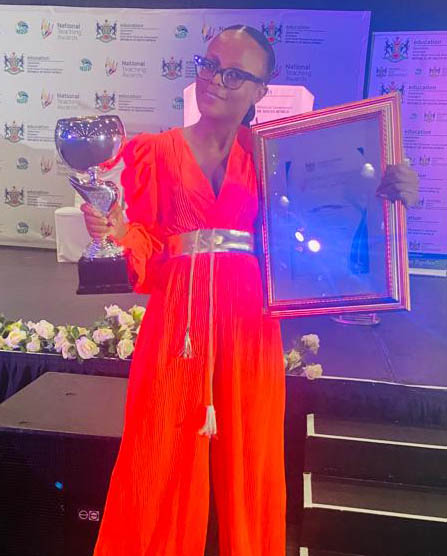 NWU alumnus Khululwa Nosipho Shibane came in second place in the category Excellence in Special Needs Teaching at the North West provincial segment of the National Teaching Awards.