By Ontiretse Motingwa
Tebogo Phakedi, a North-West University (NWU) alumnus has been nominated as one of the 50 most influential young people in the North West province.
Tebogo, a journalist at the SABC, was nominated after local newspaper Naledi News requested its readers and the general public to nominate young people who they believe are goal driven and influential.
"When the editors contacted me to inform me about the nomination, I was astonished. I am humbled to be part of such an incredible and inspiring list of young, driven people in the province," she says.
Tebogo says initiatives like these play an important role in realising the ideals and goals of aspiring professionals.
She adds that it is important for her to empower young people. "It is crucial for young people to further their education. There are so many resources they can use to hone their skills – they just need help to access them.
"Technology is on our side, we just need to be intentional about the kind of education we attain to use it to our advantage."
More about Tebogo
Tebogo completed her master's degree in public administration at the NWU in 2018, with her dissertation focusing on public procurement systems – the laws regulating tenders in the country.
With South Africa being a country with many reports and allegations of corruption, her study concluded that political influence plays a role in directing tenders to certain individuals as bribes are paid to solicit contracts.
Tebogo started her career as a writer at the Mahikeng Campus student newspaper, The Album.
"Journalism is my calling. From being an aspiring writer for the campus newspaper, to being a local community radio journalist and finally being employed by the SABC, it is truly a privilege to tell stories that change lives," she says.
Tebogo is an alumnus of the Young African Leaders Initiative, and also obtained a certificate in media management from FRAY-Intermedia in collaboration with SANEF. She is currently pursuing a PhD in public administration at the NWU.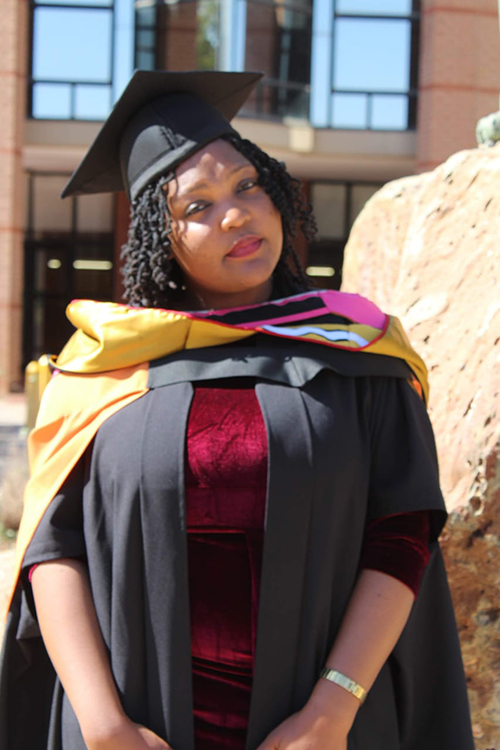 Tebogo Phakedi.