By Oldrin Masowa
The early bird catches the worm, the rest stay longing. This is exactly what the School of Communication Studies at the North-West University (NWU) aims to achieve after hosting a media career development skills workshop. The objective of this workshop was to align and prepare the honours-degree students for the world of work by providing training for job interview preparation and work-readiness seminars. The workshop took place on the Potchefstroom Campus on 15 August 2022. 
The programme kicked off in the early morning with attendance by numerous senior students and staff members. Among the delegates was the NWU alumnus, news reader, journalist, anchor and prime-time news presenter Daniëlla van Heerden. She was introduced as the guest speaker of the day to share her experience and knowledge with students on how to approach job interviews, as well as what is expected of them in the journalism world.
Daniëlla was born and raised in Potchefstroom, where she began to serve as the editor of the NWU Wapad newspaper. She completed her BA Media Communication degree at the NWU and enrolled for her honours degree in Journalism at Stellenbosch University. In 2008 she began her career at the daily newspaper Beeld, where she was named the Young Journalist of the Year. Two years later she joined the brand-new independent Afrikaans news bulletin on kykNET (eNuus). She was also named the National Press Club's TV news journalist of the year in 2013 and 2014. She has received an ATKV "Mediaveertjie" for best TV insert for her report on the Bloodhound land speed record attempt in the Kalahari.
She believes that students should start early to develop their careers.
"Lecturers can do so much to help students, but it is really the responsibility of every student to have an inner drive to put in extra effort, to ensure that they learn and create their own portfolio," adds Daniëlla.
Dr Anette Degenaar, NWU lecturer in Corporate Communication from the Potchefstroom Campus, pointed out the importance of students putting the theory into practice.
"I think it is important to have a theoretical grounding: student life and practice must meet so that students can see what real life is like and hear what it is like from someone like Daniëlla when she comes and shares knowledge on a journalism career," adds Anette.
In 2017, Daniëlla was honoured again by the Afrikaanse Taalraad with a Koker Award for her contribution to Afrikaans. She was also named as the NWU's Young Alumnus of the Year.
In 2021, her youth novel, "As jy droom" was published by Pan Macmillan and it was translated by Daniëlla herself and published in 2022 under the English title "When you dream". She co-owns DM Media Training with her friend and former colleague Mia Spies. Her media training company offers training to corporates and academics to help hone their skills in television and radio interviews.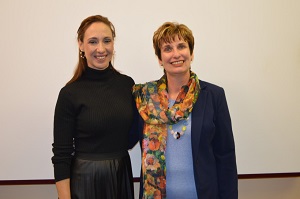 Daniëlla van Heerden and Dr Anette Degenaar