North-West University (NWU) alumna Keabetswe Mokgatla never would have thought she would find her true calling in farming.
Now a proud maize and cattle farmer, she is part of the first cohort of participants in the Corteva Agriscience programme for women in agriculture.
The programme, launched earlier this year, is hosted by the University of Pretoria's Gordon Institute of Business Science (GIBS).
This 12-month tailor-made programme aims to enhance the entrepreneurial, business, and leadership skills of 30 women in agriculture to enable them to run and operate their agricultural enterprises more effectively. 
Keabetswe, who hails from Kalbasfontein in Gauteng, says she is excited to be part of the  programme, as it will help her to improve her farming experience and business skills.
"We have 373 hectares of land for farming, of which we use 250 to plant maize and soya beans while the remaining is used for grazing for Limousin cattle. Right now I have 26 cattle and I am working on expanding my herd. Regarding the crops, I work with Senwes who assist with production input and selling,".
Keabetswe says in the last two months that she has been attending the Corteva programme, she can definitely see an improvement in her leadership skills, and she finds it easier to align her personal and business values.
"This programme definitely has the potential to contribute to the economic empowerment of women and towards ensuring food security for the families and communities they support," she adds.
This is where it all started
Keabetswe says her passion for farming was instilled by her father, who is also involved in farming.
"After completing my BA degree in psychology and sociology at the NWU, I could not get a job immediately. This was when my father suggested that I should consider working on the farm and be a job creator rather than a job seeker."
She says the agriculture light bulb lit up when she started working with her father.
 "I used to visit the farm during my university recess, but I never had any understanding of the agricultural process and never looked at it as a business.
 "Working with my father on the farm has made me fall in love with farming. I have developed a serious passion for the field – to such extent that I don't see myself doing anything else."
However, she says her years studying at the NWU was definitely not a waste. "I use the knowledge that I gained on a daily basis. Psychology assists me with building relations with stakeholders, and helps me to look at things from different angles, concludes Keabetswe.
*Article adapted from Food for Mzansi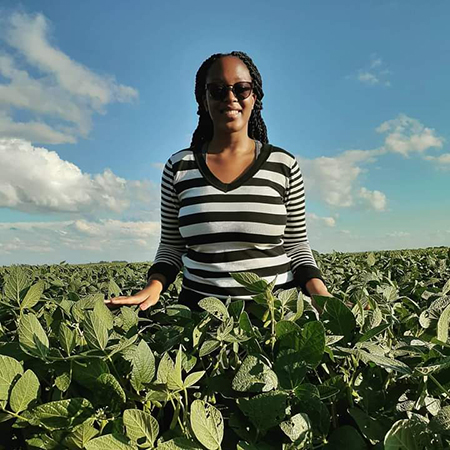 NWU alumna and proud farmer, Keabetswe Mokgatla.