Senior Lecturer and Chartered Accountant in the School of Accounting Sciences within the Faculty of Economics and Management Sciences, Mr. Kurt Naicker, has recently won the award for the best slogan against Anti-Gender Based Violence.
His slogan that was chosen as the winning entry was:
"You always have a choice never choose violence, raise your hand in solidarity against vulnerable victims and end this vicious cycle."
Kurt explains that Gender-Based Violence (GBV) stems from the primary issue of gender inequality, a battle that continues to this day across industry, households, and society.
Kurt further elaborated: "South Africa has become synonymous with the term Gender Based Violence. We hear horrific stories every day about victims who have suffered severe bodily harm, victims who have been traumatized by verbal, physical, or emotional abuse."
Kurt stated: "This country must take a stand to change the narrative. What culture are we creating for our citizens? Women and children are the primary victims of Gender-Based Violence, but what is also important to note is the effect of Gender-Based Violence on Men and the LGBTQIA+ community."
According to Kurt, South Africa has notoriously high levels of violence against women. Which can be substantiated by the latest released police figure. "The latest police figures show that 10,818 rape cases were reported in the first quarter of 2022. The country has the highest rape incidence in the world (The Conversation, 29 Nov 2022)". Yes, that's scary but what are we doing about it as a country? How can we punish perpetrators and educate our youth to prevent these statistics from reoccurring?'
"Being a member of a marginalized group of people, whether by race, sexual orientation, or any other demographic, makes you vulnerable, and it is sad to see that in some cases, victims begin to blame themselves for the abuse, and there have also been cases of trauma-bonding, in which victims yearn for love and from the perpetrator" stated Kurt.
Kurt describes, based on the above context he felt the need to participate in this project in collaboration with the North-West University.
"I understand what it means to be marginalized and treated differently for being who you are. I promised myself that when I had the power to make a difference, I would be intentional about making a difference and collaborate with other individuals who wanted to be difference makers", Kurt elaborated.
"Everyone wants to feel like they are part of a team or family, and when we highlight differences amongst ourselves, we violate people's human rights and begin the cycle of marginalization. Women and children are frequently made to feel inadequate because they are not men, and thus their opinions and feelings are dismissed, leaving
them feeling isolated and worthless. Why should representation not matter? Men, women, and children all have equal importance.", Kurt explained.
"Toxic Masculinity is a new concept, but it has existed for a long time. Male dominance has been asserted on women and children. There appears to be a strong tendency among adolescent men to assert male dominance in relationships to reaffirm their masculinity, and research has revealed that a significant number of these men come from abusive homes where they passively witnessed physical, emotional, and verbal abuse. Social norms have constructed toxic masculinity and hegemonic masculinity to define the characteristics of a man, this often includes marginalizing individuals based on gender, sexual identity, and race, to name a few. These men take pleasure in the harm they inflict on their victims and do so with such "religious zeal"."
"I earnestly hope we could heal as a country from Gender-Based Violence. I am glad to be positioned in the Academic Space where I have the opportunity to educate the individuals that walk into my classroom. I want them to change the narrative, go out into the world and be difference makers. We can all come together and raise awareness. We have to continue to resist this current normative and do everything in power to end this vicious cycle", concludes Kurt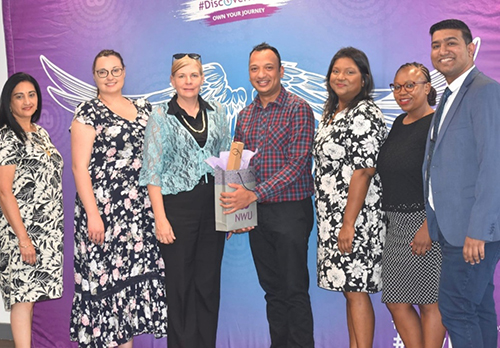 Kurt Naiker receives the prize for the best anti-gender-based violence (GBV) slogan. From left are Vedhna Lalla and Shanae Theunisen from the School of Pyschosocial Health, Prof Linda du Plessis, deputy vice-chancellor for planning and Vanderbijlpark Campus operations, Kurt, Genevive Poodhun from Employee Wellness, Zanele Ngobese from Alumni Relations, and Ujeet Maharaj, prosecutor and head of Student Judicial Services.