North-West University (NWU) academic Prof Erhabor Idemudia has been awarded the 2023 Friedrich-Schiller Universitat Excellence Research award.
He received this award in recognition of his excellent research track record and respected global and international research reputation.
Prof Idemudia's research focus covers interdisciplinary health studies as a whole, far beyond the classical confines of clinical psychology. He incorporates input from several branches of psychology into his clinical psychological work, but also includes the wider context by showing great openness for anthropological, sociological, and political science ideas with emphasis on mental health issues and interventions with vulnerable and marginalised populations.
Prof Idemudia says he will be working on mental health and social integration of international students in Germany with Prof Beelmann and Dr Karing in the Department of Research Synthesis, Intervention and Evaluation and the Centre for Research on Right-Wing Extremism, Civic Education and Social Integration.
More about Prof Idemudia
Formerly head of department and chair of the subject group Psychology, Prof Idemudia is currently the chairperson of two ethics committees at the NWU: the Basic and Social Sciences Research Ethics Committee and the Human and Social Sciences Research Ethics Committee.
He is an established National Research Foundation researcher and is also a recipient of the prestigious Georg-Forster Research Life-Time Achievement Award from the Alexander Humboldt Foundation in Germany.
He has published about 450 publications in peer reviewed journals that are indexed in Scopus, Web of Science, as well as books and chapters in books. He is the co-author (with Klaus Boehnke) of Psychosocial experiences of African migrants in Six European Countries. A mixed method study (2020) and the author of I'm an alien in Deutschland: A quantitative mental health case study of African Immigrants in Germany (2010).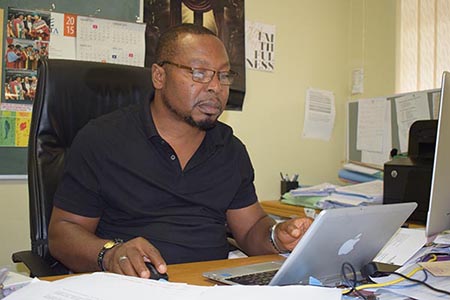 Prof Erhabor Idemudia