North-West University (NWU) academic Prof Olubukola Oluranti Babalola was elected a fellow of the Nigerian Academy of Science (NAS) during its annual general meeting earlier this year.
She was formally inducted as fellow, along with 10 international distinguished scientists on 12 May 2022.
The NAS fellow induction is one of the highest honours of the academy, and each fellow receives a certificate and gold medal.
Present at the occasion were delegates from Prof Babalola's alma mater, the Methodist Girls' High School Yaba Lagos, and delegates from the Organisation for Women in Science for the Developing World, led by Dr Maimuna Abdullahi Habib, the first female chief veterinarian officer in Nigeria.In her remarks, NAS president Prof Ekanem Ikpi Braide praised Prof Babalola for her significant scientific achievements and expertise in the field of microbiology.
More about Prof Babalola
As a renowned global scientist, Prof Babalola's expertise cuts across the natural sciences and is focused on plant microbes' interactions, microbial ecology and crop improvement. Presently, Prof Babalola is vice-president of the OWSD's Africa region, and director of the Food Security and Safety research focus area at the NWU.
She is a National Research Foundation C-rated scientist with more than 300 publications to her credit.
More about the Nigeria Academy of Science
The Nigerian Academy of Science (NAS) is a member-based organisation that annually elects distinguished scientists into its fellowship. Since its inception in 1977, 268 distinguished scientists have been inducted as fellows.
These fellows have distinguished themselves in their respective fields both locally and internationally, and are elected through a highly competitive process. Some fellows have served as vice-chancellors of universities, and directors-general of government parastatals, while others have held cabinet-level appointments with the federal government of Nigeria.
The academy is the foremost independent scientific body in Nigeria dedicated to the development and advancement of science, technology, and innovation, and aims to positively guide policies and/or strategic direction through scientific knowledge.
The NAS is the third-oldest academy on the African continent and is a founding member of the African Science Academies. It represents Nigeria on bodies such as the International Science Council and the Inter-Academy Partnership.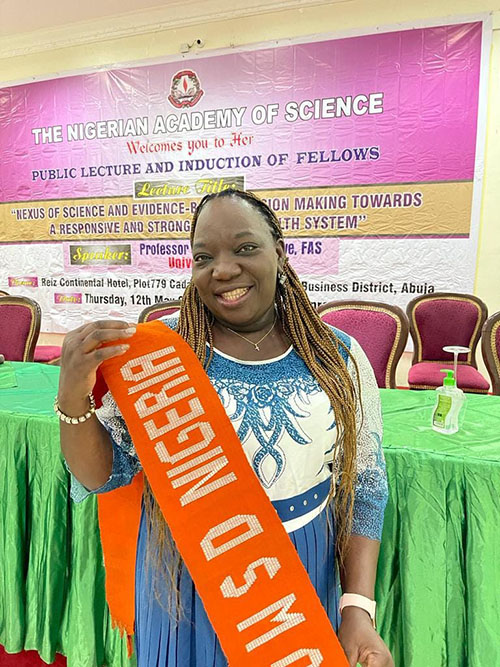 Prof Olubukola Oluranti Babalola has been inducted as a fellow of the Nigerian Academy of Science (NAS).