Meelan Roopa, a lecturer in the North-West University's (NWU's) School of Industrial Engineering, is currently conducting research on new ideas and strategic ways of achieving environmental sustainability for developing countries through industrial engineering.
His research explores the synergies, divergencies and needs of ensuring environmental sustainability using the theory, methods, techniques and strategies formulated within industrial engineering.
Meelan says the relationship between some of these practices can result in either benign, contradictory or synergetic effects between productivity and environmental performance. "A simple example of a synergetic relationship can take the form of an inventory management strategy that reduces auxiliary systems, thereby reducing energy and resource consumption."
He says industrial engineers creatively solve complex problems by integrating people, processes, systems and technologies to ensure higher levels of productivity and efficiency in an organisation, irrespective of their industry. They are also referred to as "masters of integration".
"This discipline was formed as a response to growing human advancements that can be classed by the industrial revolutions," he says.
Through his study, Meelan wants to incorporate the opportunities and value of this discipline with environmental sustainability considerations.
"It is argued that it is more challenging for developing countries to meet this goal. My interest in this topic stems from the evident need to ensure environmental practices that promote economic growth and societal wellbeing for countries that are faced with poverty, inequality and unemployment," says Meelan.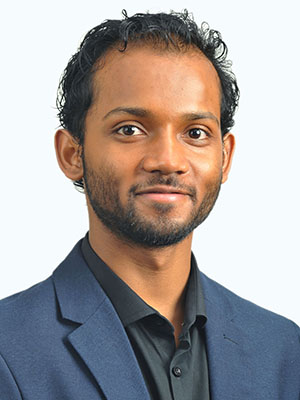 Meelan Roopa.