Dr Luce Pretorius, an academic in the North-West University's (NWU's) Social Work subject group, was recently invited to be a speaker at the Mine Health and Safety Council (MHSC) Tripartite Summit.
The event was attended by approximately 1 200 delegates and was also broadcasted online.
Dr Pretorius presented a session on "Mental Health in the Workplace", which focused on mental health and the role of health and safety in the mining sector. She also spoke about collaborative strategies to address this often-overlooked theme. 
She says this was an extremely positive session, with many role players engaging during and after the session.
"I am continuously amazed by the impact of interdisciplinary collaboration and how we contribute to safeguarding strategies to inform practice, policy and education.
"It's been such a humbling experience to participate in this summit, and to see government, organised labour and the employer take hands to commit to zero harm," says Dr Pretorius.
More about MHSC
The Mine Health and Safety Council is a national public entity (Schedule 3A) established in terms of the Mine Health and Safety Act, No 29 of 1996, as amended.
The entity comprises a tripartite board represented by the state, the employer, and labour members under the chairmanship of the chief inspector of mines.
The main task of the council is to advise the Minister of Mineral Resources on occupational health and safety legislation and research outcomes focused on improving and promoting occupational health and safety in South African mines.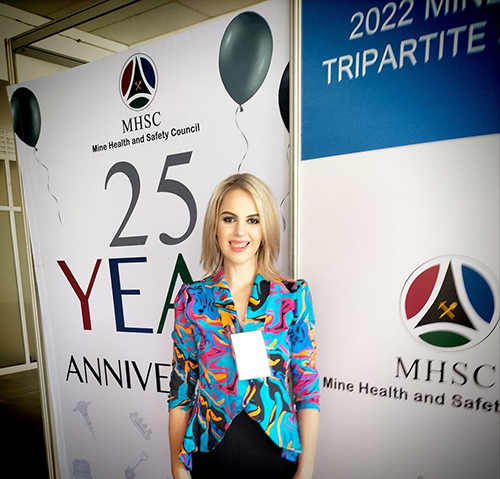 NWU academic Dr Luce Pretorius at the Mine Health and Safety Council (MHSC) Tripartite Summit where she presented a session on mental health in the workplace.