The African Nutrition Leadership Programme (ANLP) has so far left its footprint in 36 of the 52 countries in Africa.
This training programme of the North-West University's (NWU's) Centre of Excellence for Nutrition (CEN) has been available since 2002 and has already established a network of 350 professional participants in the field of nutrition across Africa.
Prof Johann Jerling, researcher at the CEN, says that the programme involves the thorough development of individuals' leadership qualities. "These individuals all come from the wider field of nutrition."
He says that, over the years, enormous competition has developed to obtain a place in the popular programme. "We advertise in August and receive up to 140 applications, which we have to reduce to about 30 people through a screening process. This year we have a participant from Liberia for the first time."
The programme is presented annually for 10 days at the Elgro River Lodge near Potchefstroom.
Johann says that the primary aim is to allow people to discover something about themselves and not necessarily to climb the ladder of success. "Our message is also clearly to say lead from where you are – do not wait until you are at the top of the food chain."
He tells the story of one of the participants, Anna Lartey from Ghana, who completed the programme in 2002. She was a lecturer at the University of Ghana and currently has one of the most important positions in the United Nations' food and agriculture programme. Anna told them that if she had not been part of the programme, she would never have regarded herself as a leader.
The ANLP has built an alumni network of approximately 400 people in Africa who, according to Dr Christine Taljaard, a postdoctoral fellow at the NWU, are extremely loyal towards the programme. She says that they form a very large, active working group and the network that was built has also been used to collect information for European countries.
Johann says that the programme has produced many other outcomes, as they have done work in many countries like Kenya, Zambia, Mozambique and Rwanda, using the contacts they have established through the programme. The programme has supported the launch of mandatory food fortification in Kenya via a tailor-made, focused change leadership development intervention with the Kenyan National Food Fortification Alliance.
"We are currently developing programmes in Zambia and Mozambique. There is an enormous need for leadership skills in Africa, and this programme still has a lot of room for expansion."
Johann says that another benefit of the ANLP is that participants often take the next step of studying for their postgraduate qualification at the NWU.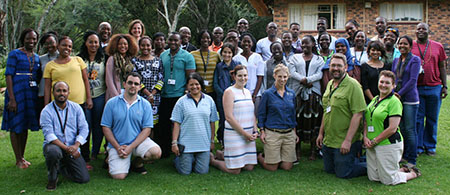 The group of people from countries in Africa that attended this year's programme.