Moira Lekalakala, a third-year theology student on the North-West University's (NWU's) Mahikeng Campus, was recently announced the winner of the Faculty of Theology's Language competition.
The competition formed part of the faculty's approach to become more inclusive in terms of the NWU's multilingual Language Policy, and aimed to involve students in the translation of important core theology concepts into Setswana and Sesotho.
These translated core theology concepts will form part of a data basis which lecturers can use in their teaching and learning approach.
"Making these concepts available in Afrikaans, English, Sesotho and Setswana – the four official languages of the NWU – will help students to articulate their understanding thereof," says Prof Hennie Goede, executive dean of the faculty.
According to Prof Amanda du Plessis, director of the School for Christian Ministry and Leadership, the high quality of Moira's entry earned her an excellent appraisal.
Moira, whose studies focus on Christian ministry, says her participation and subsequent win is all part of her devotion to ministry.
"I am learning a lot of new things, for instance the approach to and explanation of different Bible verses, and acquiring skills and knowledge from different biblical scholars. 
"This teaches me how to link and apply biblical teachings to the world we are living in," says Moira.
The language competition was launched early in 2021 on eFundi, the NWU's online teaching and learning platform, and lecturers of eight different subject paradigms were involved.
The university's Language Directorate assisted with the appraisal of the entered translations, and CUM Books sponsored the prizes.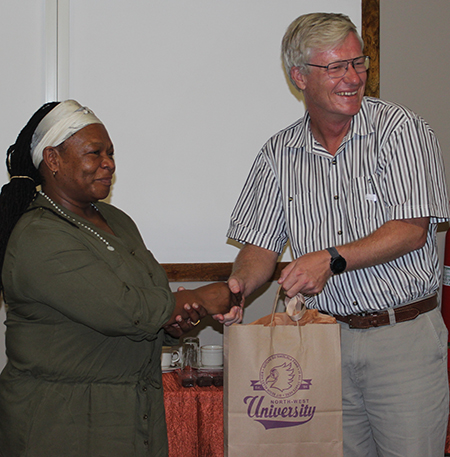 Prof Hennie Goede, executive dean of the Faculty of Theology, hands over a gift to Moira Lekalakala, the winner of the faculty's Language competition.