The North-West University (NWU), in conjunction with Tiger Brands' Plates4Days, launched the 2022 Meal-a-Day programme at its Mahikeng Campus on 22 February.
The Tiger Brands' Plates4Days programme offers nutritional support for students who do not have access to proper meals. Qualifying students are provided with a nutritious meal each day, allowing them to better focus on their academic success.
More than 500 first-year students on the campus were introduced to the programme during the NWU's Registration and Orientation week.
"Several research studies have shown a close relationship between nutrition and educational success. In South Africa, a disproportionate number of tertiary education students go without adequate nourishment, often impacting their academic progress and ability to fulfil their potential," says Zolile Ntukwana, external affairs director at Tiger Brands.
"In our current economic environment, a lot more families are experiencing food insecurity. As one of the largest food producers in South Africa, we have an inherent obligation to address this challenge. Our Plates4Days student nutrition programme helps to remove the pressures associated with hunger, leaving students with one less concern while building their futures," he adds.
According to Lerato Wana, manager of Student Counselling and Development, the annual launch ensures that new and returning students are aware of the programme and able to apply.
 "We as Student Representative Council (SRC) are very grateful to Tiger Brands for collaborating with us in providing food for our students through the NWU's Meal-a-Day project. This project ensures food security for those students who struggle to make ends meet," says SRC member Metsing Selema.
About Tiger Brands' Plates4Days
Tiger Brands initiated Plates4Days in 2008 to address the challenge of student hunger at universities across South Africa by providing those in need with nutritionally balanced food hampers.
The 13-year-old programme supports more than 5 000 students each month at seven South African universities.
Qualifying students receive a food hamper each month packed with dietary staples such as Ace Maize Meal, Tastic Rice, KOO canned vegetables and Black Cat Peanut Butter, among others.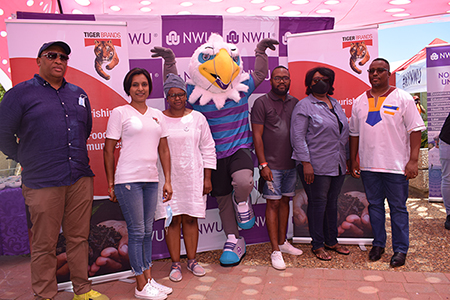 From left are Zolile Ntukwana and Preeya Naidu from Tiger Brands, Lerato Wana from Student Counselling and Development, Eagi, the NWU mascot, Metsing Selema, SRC member, and Maria Mopelong and Warren Makgowe from Stakeholder Relations during the launch of the 2022 Meal-a-Day programme at the NWU's Mahikeng Campus.