Melanie Pieterse is a young entrepreneur on a mission. As the winner of the North-West University's (NWU's) Leopards Lair competition, this final-year student in industrial engineering not only impress as a start-up fempreneur, she is also actively supporting fellow entrepreneurs.
All while working towards bettering the lives of young schoolgirls across the country. And how is she doing this? Through her entrepreneurial venture called The Period Package.
More about The Period Package
With research indicating that as many as 30% of girls in South Africa missing out on school when they are menstruating because they cannot afford sanitary products, Melanie's social entrepreneurial venture aims to not only address period poverty, but also to motivate women to support each other and by doing so celebrate their unity. 
The Period Package is based on a subscription system and sees subscribing women receiving a special care package each month. The package contains sanitary products as well as a pick-me-up surprise product to ease the period blues associated with that time of the month.
This product – which can also take the shape of access to a specialised service or event invitation – is sourced from other fempreneurs and in this way promotes the cycle of entrepreneurial support. For each subscription a donation of sanitary products is made to a less fortunate girl, enabling her to stay in school and enjoy the benefits of her education.
Melanie explains that the idea is to empower local entrepreneurs to join her network and in doing so create a support network for entrepreneurs. The first rendition of The Period Package saw a dietitian, Hanli Etsebeth - a dietitian blogger, include an eating plan tailor-made for women on their period.
From backyard entrepreneur to Leopards Lair winner
Melanie laughs when she tells the story of how she first got interested in entrepreneurship, way back when she was in primary school. At that stage the concept of entrepreneurship was still foreign to her, but she knew she had to be clever to raise money to use at the school's tuckshop.
She used what she had at her disposal, namely a sizeable storybook collection. And before long she ran her own book exchange from her dolls house in her parent's backyard by charging her friends R5 a book. Interestingly enough, her first contributor towards the monthly subscription box, Hanli, was one of her childhood "customers" at the book exchange.
"I guess that's where it all started," says Melanie and adds that she is very thankful about the support and guidance she is receiving from the NWU's bhive Enterprise Development Centre (EDC) in further developing her concept.
One of her prizes is business development support, including business incubation, coaching and mentoring as well as networking opportunities as sponsored by the bhive EDC.
*  The first runners-up were Ruben Kriel, Henco Kriel and Niel Behnke* with their venture, Wicked Vapes. The start-up venture, Bean, was the second runner-up. This team comprised of GD van Tonder en Ruben Steenberg.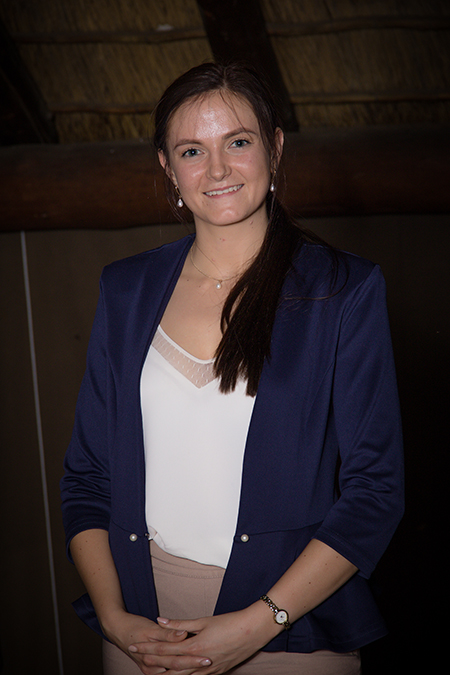 Melanie Pieterse.