When Grade 12 graduates of the Ikateleng project sit for their matric exams, they can be confident that the North-West University (NWU) has given them the tools to empower themselves.
Thirty years after the inception of the Ikateleng project, which means "empower yourself", the NWU continues to impact the lives of thousands of learners across central South Africa by offering supplementary teaching. Initiated in 1988 in the Vanderbijlpark area, the project provides tuition to Grades 10, 11 and 12 learners to improve their overall examination results and also imparts vital life skills.
Run over 18 Saturdays from 08:30 to 15:00, tuition in mathematics, physical sciences, life sciences, accounting, business studies and English is provided at several centres from Vanderbijlpark to Mahikeng.
The Ikateleng closing ceremony for 2018 was held in Lichtenburg on 25 August. Donors and parents attended, and Grade 12s who were top subject performers were acknowledged with prizes.
The project depends entirely on contributions from various sponsors and donors and they were acknowledged for supporting the programme, which is one of the university's longest-running and most successful community projects.
Warren Makgowe, director for Stakeholder Relations at the NWU, thanked NWK Limited, a leading agricultural business, for their financial support in particular. "We understand very well that without the support of stakeholders such as the NWK, the university will not fully achieve its mandate," he said.
NWK, the main sponsor of the Lichtenburg Ikateleng centre, was represented by their group manager for corporate marketing and communication, Johan Bezuidenhout. He told the learners they had been given an opportunity to improve their results and to shape their future. "At the end of the day it is up to you to make the most of it," he said.
Edwin Nkosapantsi from NWU Student Recruitment and Marketing gave the Grade 12s tips on how to adapt to university life. He said they should enjoy student life but not be distracted from focusing on their studies.
Johan Zerwick, language practitioner at the university, shared with learners the importance of looking after their health, learning to forgive and to play their part in building our country.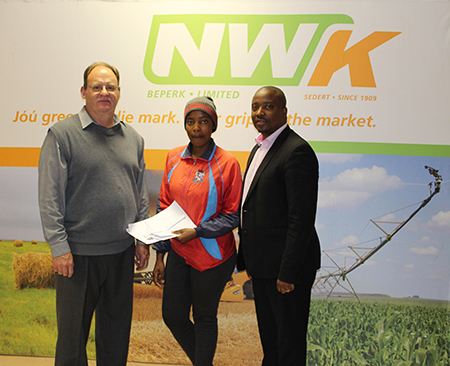 From left are Johan Bezuidenhout (NWK), one of the participating students of the Ikateleng project, and Warren Makgowe (NWU).