By Phenyo Mokgothu and Lerato Tshweu
North-West University (NWU) Eagles defender Kgopotso Moshapo has emerged as the saviour of his team, delivering clutch performances in two consecutive games during this year's Varsity Football season.
With remarkable headers, he not only secured victory over the Central University of Technology (CUT), but also salvaged a crucial draw against the University of Free State.
The NWU's hard-fought 2-1 victory over CUT at the NWU Mahikeng Stadium had fans on the edge of their seats. It was Moshapo's header in the 95th minute that sealed the deal, sending waves of celebration through the stadium.
Just a week later, Moshapo displayed his goal-scoring prowess when he netted a dramatic equaliser for the NWU against the University of Free State. This time, the goal came in the 92nd minute, again in the form of a header. These two crucial goals have not only made him a fan favourite, but also a vital asset for the NWU.
When asked about his experience in his first Varsity Football matches, Moshapo shares, "It was a thrilling experience because you are exposed to extrinsic factors that may affect your performance on the ground, like a fully packed away stadium and the pressure that comes with it."
Moshapo's goal-scoring technique seems to come naturally. He explains that it was not something he had planned; he was just in the right place at the right time. Before matches, he prefers to listen to music and chat with his teammates. He also follows specific patterns, believing that if a certain pattern leads to a victory, he repeats it in the following game.
Kgopotso Moshapo, nicknamed "Gattuso", was born and raised in Pretoria. He joined the NWU Soccer Institute in 2022 after earning a promotion from the university's junior team. Playing in a position often occupied by natural leaders and strong communicators, Moshapo fits the bill perfectly.
His football journey began at the age of five, and since then, he has progressed steadily through various teams.
"I joined my first amateur team in 2011 - Akasia FC based in Pretoria. I then went on to play for Mamelodi Sundowns Academy from 2014 to 2018. After that, I played for PSB FC for almost a year before joining Garankuwa United in 2019. Finally, I decided to try out for the NWU team in Mahikeng in 2020," he recounts his journey.
Moshapo's debut in the 2022 Varsity Football tournament allowed him to gain valuable experience alongside more seasoned players. He credits these senior players for helping shape him into the player he is today and preparing him for moments when the team relies on his heroics.
As Moshapo continues to make headlines with his remarkable late-game contributions, his towering presence during set pieces has become a feared threat for opponents. His ability to keep the NWU in the game when a crucial goal is needed has quickly made him a standout figure in Varsity Football.
Teams now know that they can never rule out the danger of a skilled centre-back like Kgopotso Moshapo.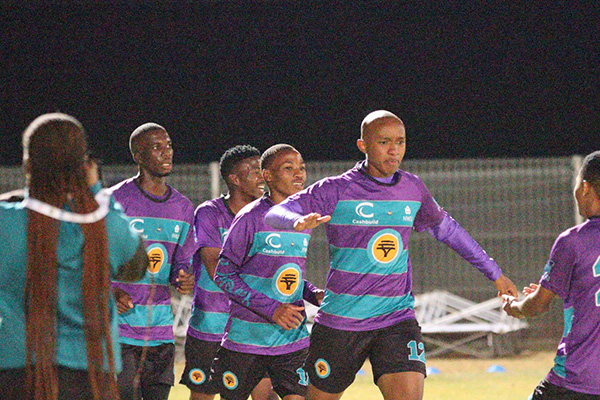 Kgopotso Moshapo scores the deciding goal against CUT.