Glad Africa Championship team Jomo Cosmos have signed North-West University (NWU) Soccer Institute goalkeeper Kagiso Ramadivhane for the remainder of the 2019/20 football season (two months), with an option to extend at the end of the season.
The lanky goalkeeper and Nedbank Ke Yona team search product is the second player from the NWU Soccer Institute, after Thapelo Tlabakwe, to join Jomo Cosmos. He is also one of many other players from the institute to have joined a professional team.
Pretoria born Kagiso says he is excited about this opportunity and is looking forward to making a positive contribution during his time at Jomo Cosmos FC.
"For me the deal with Cosmos presents not only an opportunity to grow and learn to be a better player, but also to add value," says Kagiso.
NWU coach Karabo Masehela says he is confident that Kagiso will do well at Jomo Cosmos FC.
"The move to a professional outfit was long overdue, and I know he won't disappoint and will fly the NWU Soccer Institute flag high," he adds.Kagiso is currently a final-year coaching sciences student at the NWU.
He says being part of the Soccer Institute has taught him how to balance his time between football and studies.
"I am planning to keep this balance so that I can complete my programme and graduate next year."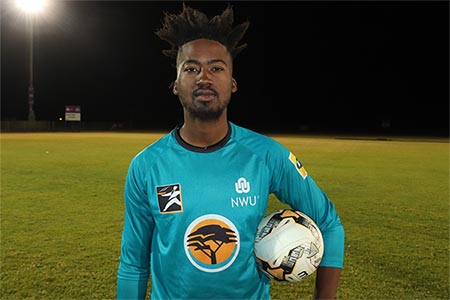 NWU goalkeeper Kagiso Ramadivhane recently signed with Jomo Cosmos FC.