North-West University (NWU) master's student Letago Kgomoeswana has been announced as the winner of the 2021 national FameLab® competition, one of the biggest science communication competitions in the world.
This competition promotes science and technology by creating a platform for young scientists to find their voices and reach public audiences.
Letago, who is pursuing an MSc degree in geography, says she is beyond humbled and overwhelmed by the opportunity to represent not only the NWU and the subject group Geography, but also South Africa as a whole.
"In Sepedi we say 'Motho ke motho ka batho', which can be translated as 'I am because you are'. I owe this win to the men and women who have trusted me with generations of knowledge and contributed immensely to my MSc journey," says Letago.
"I hope that my journey from Limpopo to the world stage inspires a new generation of bold, young researchers who will take up careers in STEM, research and science communication." (STEM stands for science, technology, engineering and mathematics and refers to any subjects that fall under these four disciplines.)
"My research has opened up a whole new world to me. It helped me to meet individuals in STEM who have played a big role in my personal growth, and has now also given me the opportunity to represent South African science on the global stage," says Letago.
She hopes that this platform will allow her to continue advocating for the inclusion of indigenous knowledge in climate change policy.
In her winning presentation, this passionate environmental geographer explained how the age-old indigenous knowledge of local communities can help to shape climate change policies for a sustainable future.
Letago says the competition was fierce, but the science communication training and preparation in the past couple of months did pay off. "Each of the 10 finalists brought their A-game and delivered three-minute science talks of an exceptionally high standard."
Letago will represent the NWU and South Africa at the International FameLab® 2021 semi-final events that will be live-streamed on 10 and 11 November. The international online final will take place on 25 November 2021.
Watch this space for updates, share in the action and support Letago via the International FameLab® YouTube channel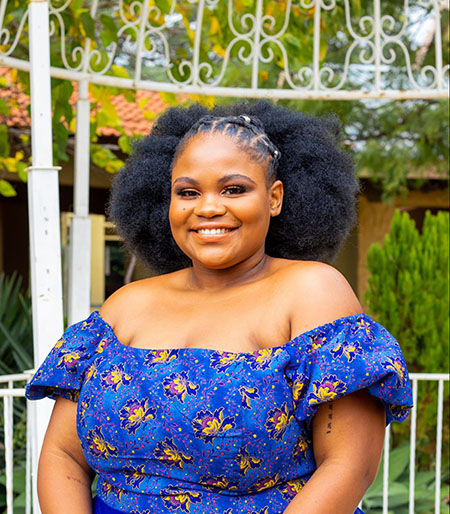 Letago Kgomoeswana.
More about FameLab®
The competition, an initiative of the Cheltenham Science Festival in the United Kingdom, is coordinated in South Africa by the British Council, in collaboration with the South African Agency for Science and Technology Advancement and science communication agency Media Jive Africa.
It has been held in South Africa since 2013 and is aimed at people aged 21 to 35 in the fields of science, technology, engineering and mathematics.