The Faculty of Humanities at the North-West University (NWU) recently hosted an insightful Teaching and Learning colloquium at Khaya Ibhubesi Conference Centre in Parys. The theme of the event was "Transforming teaching and learning in the Humanities: Critical reflection on shifting pedagogies in the post-Covid era".
The colloquium saw more than 60 delegates in attendance, including staff members, postdoctoral fellows and students from the six schools within the faculty.
According to Prof Mpho Chaka, deputy dean for teaching and learning, the event aimed to empower academics to operate creatively and innovatively within the broad Hyflex framework.
"The purpose of the colloquium was to encourage academics to determine which blends of technology and pedagogy are available. They also had to find out how this could impact the student value proposition, the quality of modules offered in the faculty, the ongoing pursuit of greater access to higher education, and the commitment to ensuring student success. All the while, excellence, student-centredness, multilingualism and a decolonised curricula must still be pursued," says Prof Chaka.
The event's presentations were conducted in parallel breakaway sessions to sufficiently address the various sub-themes.
Prof Robert Balfour, the deputy vice-chancellor for teaching and learning, opened the event with his address titled "The new century curriculum and the humanities at the NWU".
Three keynote speakers then addressed attendees on various topics. Prof Mary Kalantzis from the University of Illinois, Urbana-Champaign discussed the potential benefits of digital technology in transforming humanities pedagogy and its development. Prof Winston Mano from the University of Westminster, London spoke about transdisciplinary teaching, learning, and curriculum development in Africa from an Afrokological standpoint. Finally, Dr Janet Muthuki from the University of KwaZulu-Natal, focused on innovative approaches to teaching and learning in the digital age, navigating towards the future of humanities.
Prof Chaka says one of the main takeaways from the gathering was that academics needed to be adaptive to the ever-changing communication mediums and styles of the generations they teach, while also addressing and answering to the teaching and learning needs of the post-Covid era.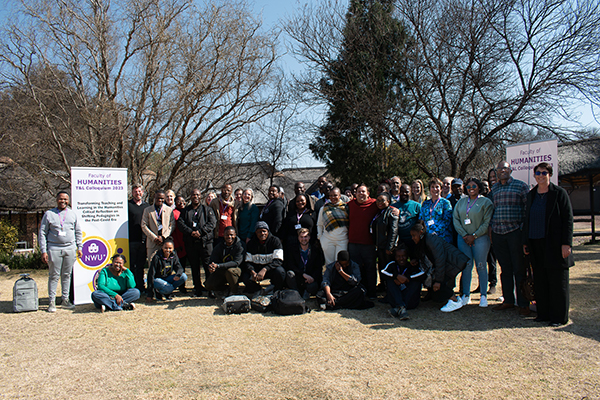 Staff members, postdoctoral fellows and students from the NWU's Faculty of Humanities participated in a thought-provoking colloquium.