Prof Marita Heyns, a researcher at the North-West University's (NWU's) Optentia research unit on the Vanderbijlpark Campus, recently delivered her inaugural professorial lecture titled "Trust @work".
The hybrid event brought together academics, family members, and friends from various parts of the globe.
Prof Heyns selected one of her research interests – how trust manifests within organisational settings – as the subject of her inaugural address.
During her lecture, she highlighted various themes that offered a unique perspective on the relevance of trust for work environments, and which also illustrated the mechanisms involved in the configuration of trust within these settings.
At first, the study concentrated on creating a functional structure for the researcher's trust investigation. Later, it examined the practicality of certain elements within the initially proposed trust framework. The study then put forth a modified version of the model that portrays the core element – the actual decision to trust – as a two-part concept within the structure. It also presented an alternative measuring tool that can be reliably used in South African settings.
Prof Heyns then explored why some leaders are more trusted than others, and found that trustworthiness remained the most influential factor in inspiring trust.
Aimed at gaining a deeper understanding of the underlying facilitative processes and hidden trust profiles within sub-groups that could impact performance-related outcomes, the results confirmed the critical roles of disclosure and autonomy satisfaction. Additionally, the study revealed how various profile configurations corresponded to selected outcomes.
Conclusions highlighted the important role of trust under highly volatile circumstances, as it serves as a shield against stress and experiences of precarity.
"It is also clear that trust is vital in promoting optimal performance of individuals and organisations. Efforts to build trust on both individual and institutional levels is therefore vital," said Prof Heyns.
She conveyed her appreciation to management, colleagues, friends, and family members for their unwavering support throughout her journey.
Congratulating Prof Heyns, Prof Linda du Plessis, the NWU's deputy vice-chancellor for planning and Vanderbijlpark Campus operations, said management can learn a lot from her study. She expressed admiration for her work and the impact it has on both her students and others.
"As a full professor, you carry significant responsibilities and serve as a guiding force for aspiring academics. We eagerly anticipate your future endeavours at the NWU."
More about Prof Heyns
Prof Heyns holds a PhD in psychology and an MBA. Her research interests revolve around positive psychology and positive organisational scholarship-related topics. Her special focus is on creating models for interpersonal and organisational trust in workplaces that are transitioning and uncertain. Her research aims to provide opportunities for individuals and organisations to thrive.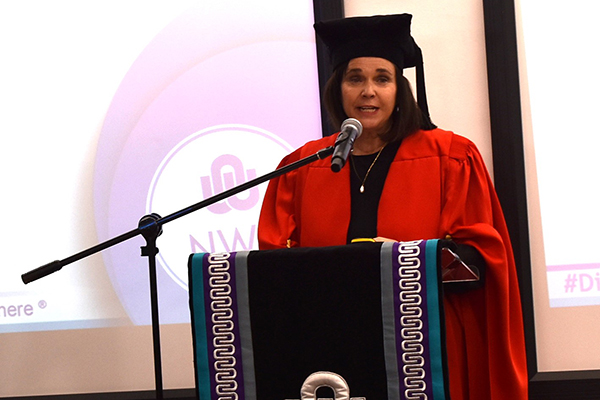 Prof Marita Heyns delivers her inaugural lecture on trust in the workplace.