Prof Zandri Dickason-Koekemoer, from the North-West University's (NWU's) TRADE research focus area was recently inaugurated as full professor.
Her inaugural lecture was titled "Cracking the Code: Investor Behaviour and Financial Decision-Making".
Prof Dickason-Koekemoer's study delved into the fascinating world of finance, where investor behaviour is the key to unlocking the mysteries of effective decision-making. She explored how investors perceive, experience and make choices in the realm of financial decisions, and the interplay between risk tolerance levels and behavioural finance biases of South African investors.
"A myriad of factors shape investor behaviour. They include risk tolerance, investment objectives, past experiences, cognitive biases, market sentiment, and economic indicators. These factors influence both rational and irrational decision-making processes, as investors draw on a variety of strategies, methods and biases when evaluating and selecting investments," she said. "What I found was that risk tolerance levels play a crucial role in shaping individual investment choices. I looked at various factors, such as age, gender, ethnicity, marital status, income and wealth, which all impact one's risk tolerance levels. It was a fascinating study that highlighted the complex decision-making processes involved in financial investments.
"These findings could revolutionise how financial investment firms curate client profiles. This could lead to a greater understanding of individual biases and more precise decision making," she explained further, thanking her family and colleagues for support throughout her research journey.
Prof Robert Balfour, deputy vice-chancellor for teaching and learning, said Prof Dickason-Koekemoer's inaugural lecture signified a rite of passage. "We hope that your journey will encourage and be an inspiration to your students. We thank the community of scholars for supporting you."
Prof Dickason-Koekemoer's academic journey has been inspiring. She started her first degree in 2007 and continued her thirst for knowledge by enrolling for two honours degrees in 2011, excelling in both programmes. She then pursued a master's degree in 2012, displaying unwavering dedication and excelling in advanced research.
She decided to pursue an MBA in 2016, aiming to understand the complexities of the business world. Her passion for learning then led her to obtaining her PhD degree in 2018.
Today, she serves as a research director of the TRADE research focus area, exemplifying her unyielding dedication, resilience and passion for learning.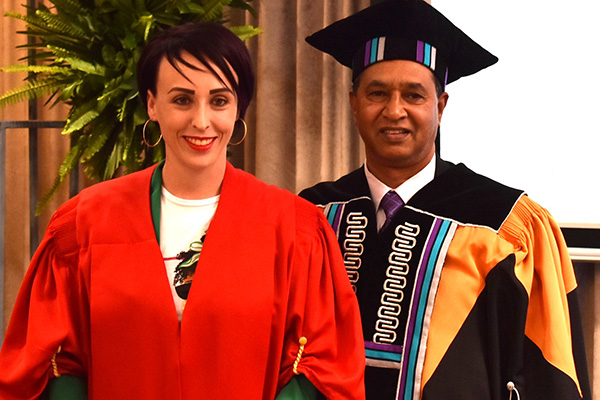 Prof Zandri Dickason-Koekemoer and Prof Babs Surujlal, executive dean of the Faculty of Economic and Management Sciences.