By Phenyo Mokgothu and Lerato Tshweu
Prof Ireen Choga from the North-West University's (NWU's) Faculty of Economic and Management Sciences delivered her inaugural lecture on 24 August 2023.
Her lecture was titled "Exports and export Diversification: key drivers and trends in Sub-Saharan Africa".
She says this was not only an academic turning point, but also a deeply personal milestone for her.
Prof Choga commenced her lecture by paying tribute to her late father, who passed away 11 months ago. She expressed her heartfelt regret that he could not witness her inaugural address, acknowledging his pivotal role as her source of inspiration. Notably, he had even aided her in editing her PhD thesis, shaping her academic journey.
The core motivation behind Prof Choga's research journey can be traced back to her primary and secondary school teachers, who instilled in her the paradoxical notion that Africa, abundant in natural resources, remains one of the world's poorest continents. "When I came to university, I became fascinated with why Sub-Saharan Africa lags behind in economic growth despite its vast natural wealth."
Throughout her lecture, she delved into critical issues pertaining to the exportation of goods and its underlying determinants.
"Export diversification is believed to be a crucial component of export-led growth and poses a significant challenge for many developing countries. Sub-Saharan African exports heavily rely on primary commodities, in stark contrast to regions like East Asia, North America, and Europe, where manufactured products dominate."
The central theme of her lecture was to explain the principal determinants of exports and export diversification and how diversification can bolster economic growth in Sub-Saharan Africa.
Prof Choga's research findings highlighted that trade openness, real effective exchange rate, human capital, per capita income, investment, foreign direct investment, infrastructure, and population are major determinants of export diversification. However, these determinants vary, depending on the specific country being studied and the methodology employed.
Moreover, her research revealed that export diversification has a positive impact on economic growth, especially in developing countries. Conversely, export instability was found to have a detrimental effect on economic growth.
Prof Choga underscored the importance of countries diversifying their export portfolios to enhance economic growth and ensure export stability.
She also emphasised that the quality of a country's exports matters more than the quantity, highlighting that Sub-Saharan Africa's heavy reliance on traditional products has hindered the region's development progress. She contended that increasing value added in manufacturing could significantly enhance a country's likelihood of diversifying its exports.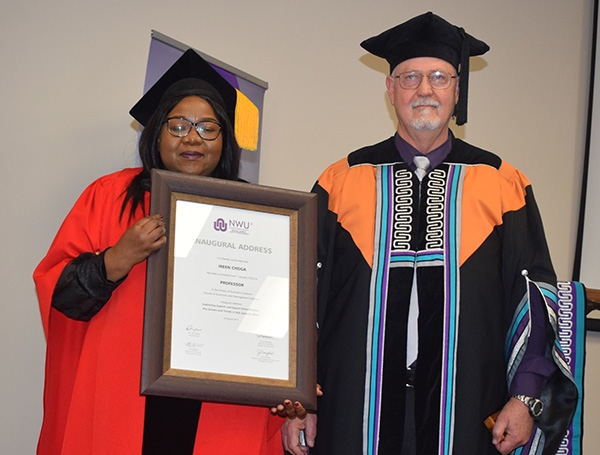 Prof Ireen Choga and Prof Herman van der Merwe, deputy dean for teaching and learning in the NWU's Faculty of Economic Management Sciences.