A second chance in life is not destined for everyone, and when it comes across your way, you have to grab it with both hands and make the best of it. This is exactly what 33 young people at the North-West University's (NWU's) Faculty of Engineering did when they enrolled in  the Xcel programme at the beginning of the year.
They might not be first-year Engineering students yet, but should be able to say that very soon...
This programme offers a second chance to students who want to improve their previous Grade 12 Senior Certificate exam results in mathematics and Physical Science. In 2016, Elza Hattingh, the NWU's Xcel programme manager, welcomed the first 12 students who wanted supplementary schooling, with the aim of improving their matric results at the end of the year to get a better chance of admission to a university.
"Since I have been managing the selection processes for admission to engineering studies for the past 20 years, I've come to realize the great need for a second opportunity to write the Grade 12 exam," says Elza. "We have decided to establish this programme where students enrol at the NWU for a year to redo the entire Grade 11 and 12 school curriculum in mathematics and physical science.
"The reasons for these students' poor school results in mathematics and physical science range from inadequate school-level education to difficult domestic conditions, unbalanced dedication to sporting participation, illness or the lack of academic purposefulness during Grade 12," she adds.
After two and a half years, this programme proved itself as a runaway success. During the June examinations, some of the students improved with as much as 40% on their previous Grade 12 results. "The class average shows an improvement of 25% in mathematics and 18% in physical science, when compared to 2017's matric exam," says Elza.
"We have a strict selection process for those who want to enrol for the Xcel programme, because we want to be sure that the selected students are truly serious to improve their previous results. We also make sure their goals are realistic and emphasise the seriousness and hard work that the programme entails.
"Here students have to make a choice – they work hard towards a professional career, or they drop out and end up in the labour market without a tertiary qualification. We have chosen the right lecturers for this great task and I can honestly say they are doing a phenomenal job. They make sure the students perform to the best of their abilities."
Although the programme is offered at the NWU, the Gr 12 national preliminary examination and final Grade 12 Senior Certificate examination are conducted under the supervision of the Department of Basic Education at a neighbouring high school. The same papers are written as those written by the rest of the country's matrics. "Over the past two years we have not only achieved a 100% matric pass rate, but each of those students also enrolled for tertiary education," says Elza.
She says the class week consists of 24 hours of learning in these two subjects, which is supported by a two-hour tutorial session where students can get guidance and assistance from the lecturers. They also enrol for a university subject and take two additional short courses, which contain more or less the same content as first-year subjects at university level. The students learn to work independently and against time and to take responsibility for their own studies. In this way they are prepared to handle the workload and work volume at university.
Elza says class attendance is contractually compulsory. "Students may miss a class if they can submit a medical certificate. We follow a serious approach to self-discipline and responsibility to prepare students for what awaits them at university. When they enter the university gates next year, they should be comfortable with the pace and volume of work and what to expect.
"The Xcel programme not only offers a second chance of a better Grade 12 result – it empowers our young people to live to their full potential. I am so proud to see them flourish and aim at a career in engineering or health sciences, where it was not possible a year ago," says Elza.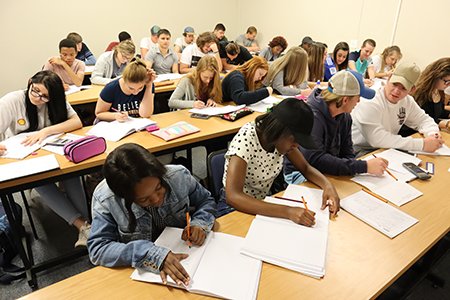 This group of young people jumped at a second chance for a better future.