Scoring in the 95th minute of the game through a header by Kgopotso Moshapo after a well-taken corner, the North-West University (NWU) Eagles secured victory against the Central University of Technology (CUT) in the fourth round of the Varsity Football tournament.
The NWU exhibited early dominance in this home game, particularly in the initial 25 minutes of the encounter against CUT. This pressure led to defensive lapses from CUT, creating opportunities for the Eagles to exploit.
One such opportunity arose when a misstep by a CUT defender allowed Aphelele Sibisi to adeptly manoeuvre the ball past the opposing goalkeeper, earning the NWU their opening goal.
Swiftly responding to the NWU's success, CUT found its own breakthrough merely two minutes later. Lehlohonolo Nkaekae took a corner kick with precision, converting it into a goal in the 27th minute of the first half. The match escalated into a fierce contest between the two teams, both relentlessly striving for supremacy during the intense 10-minute period that ensued.
As the first half approached its conclusion, the scoreboard reflected the intensity of the battle, balanced at 1-1. The second half unfolded with the NWU maintaining their offensive momentum, persistently launching attacks in pursuit of a decisive advantage. However, the NWU's efforts were thwarted by struggles in their finishing, preventing them from converting their opportunities into goals.
Ultimately, the NWU's determination bore fruit. A pivotal moment arrived when a well-executed corner kick culminated in Kgopotso's commanding header, propelling the NWU into a 2-1 lead and securing the NWU's victory after a closely contested match.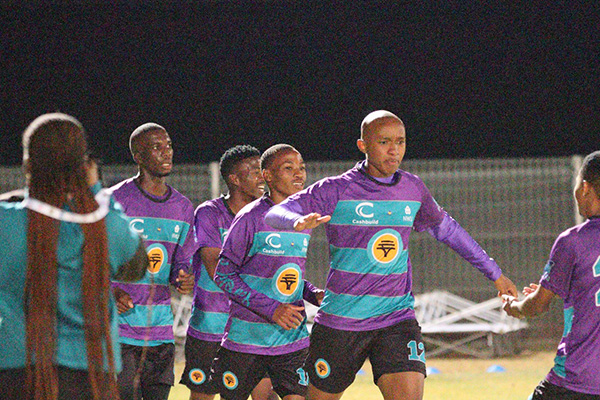 The NWU's Kgopotso Moshapo scored the deciding goal against CUT.