By Menziwa Msibi
North-West University (NWU) experimental duo project Goldfox – featuring southern African instrument player Dr Cara Stacey and cellist Nicola du Toit (cello) – joined forces with jazz guitarist Keen Ahrends in a sound exploration performance.
This performance formed part of the NWU School of Music's 2023 concert series, and brought together unlikely sounds through intricately composed and playfully improvised methods. These three muso's fused intricate guitar lines with extended cello techniques and southern African bows and lamellophones.
"This was a chance to bring more experimental and cross-genre music-making to the NWU concert series. We play with improvisation, new types of composition, and fuse African and other instruments together with electronics," Cara explained.
Cara is a musician, composer, and musicologist and was the Standard Bank Young Artist for Music 2021. She is a pianist and plays southern African musical bows (umrhubhe, uhadi, makhoyane).
Nicola is a musician and product designer and plays the cello. She is a founding member of the ShhArt Ensemble, Pantalaimon duo, and Betwixt Music series, and has a licentiate of the Royal Schools of Music in Performance.
Keenan Ahrends is a jazz guitarist and composer and has toured extensively in South Africa and abroad. He is known for his evocative musical writing, emotive improvisation and his sensitive musicianship.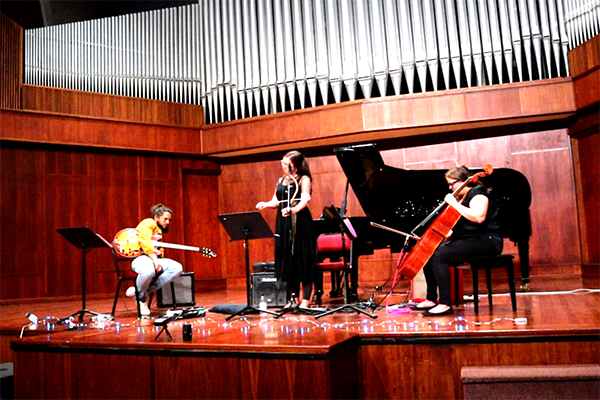 Photo: Dr Cara Stacey, Nicola du Toit and Keenan Ahrends on stage.