Professor
Head: Centre for Child Youth and Family Studies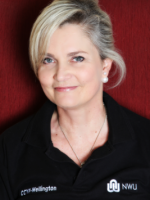 Retha Bloem is a social worker with a 25 year academic research history. As a graduate from the University of Pretoria, born in 1968, she obtained her B.SW, BA (Hons) industrial Sociology, (cum laude) Magister Atrium,(cum laude)  Masters of Social work (play therapy) (cum laude)  and Ph.D. (UP) under promotorship of Prof Rina Delport  in a period of 10 year. After lecturing for 5 years at the University of Pretoria, in Sociology, she became a faculty member as senior Lector at UNISA leading as Director the institute for Child Youth and Family studies.  She was appointed in March 2011 as head/ associate professor for the newly established Centre for Child youth and Family Studies, North West University, Potchefstroom, with the main emphasis on the establishment of a community based research platform for the North West University in the Western Cape.  This research platform provides under her management an inter-disciplinary community for training, consultation, research and rendering services to enhance the psychosocial well-being of children, youth and families.
Her research expertise include 18 Years post graduate supervision experience within the field of children.  She supervised up to date 58 Masters Students and 10 PhD Students successfully.   Her broad scientific field of interest lies within Psycho-social wellbeing for children and youth with emphasis on intervention strategies, community work, social justice and advocacy. 
Her participation, publications and contributing seminars and papers include various national and international papers all in the field of social work.  The past three years her field of expertise lies within community participation and community engagement.  Her personal focus within this environment is to unlock the indigenous wisdoms and potential of communities within a reciprocal relationship with Higher Education Institutions.
Her work motto is "In Africa for Africa."
Physical Address
East Street 3 Wellington, Western Cape Regional office
Telephone Number
+27 21 864 3593
Cellphone Number
0748977587
E-mail
Retha.bloem@nwu.ac.za