Ikateleng, a long-running scholar support project of the North-West University (NWU), has received another R2,9 million from the Eskom Development Foundation.
To celebrate the generous donation, the foundation's CEO, Cecil Ramonotsi, recently joined the NWU's acting vice-chancellor, Prof Linda du Plessis, at the Ikateleng Centre at the Dr Molefi Oliphant Secondary School in Bophelong.
"Despite many challenges Ikateleng continues to set high standards. There is a lot that other educational and developmental programmes can learn from this project. I do not doubt that your alumni can today be found occupying many leadership positions as doctors, engineers, leaders in commerce and industry, teachers and, perhaps, even within Eskom itself," said Cecil in front of a large audience of Grade 10 to 12 learners from the surrounding areas.
Ikateleng provides supplementary teaching in mathematics, economics, business studies, accounting, life science, physical science and English to high school learners from Grade 10 to 12. This flagship initiative started in 1988 and now boasts six centres from Kimberley to the Vaal Triangle. This year, more than 1 400 learners from a multitude of schools have enrolled in the additional lessons given by dedicated teachers almost every Saturday.
Prof Du Plessis said that the project has helped hundreds of learners pass with flying colours. "Last year, we had an overall 78% bachelor pass rate. We are so proud to partner with companies such as Eskom.
"We also applaud the learners for their commitment and discipline, showing up every Saturday in their school uniforms, ready to learn," she added.
Cecil said Eskom is proud to be associated with this initiative and is delighted to continue its sponsorship.
"I also want to thank and congratulate the tutors and educators participating in this programme. Thank you for generously giving your time and conducting classes on weekends. Behind every successful graduate of Ikateleng stands a group of community-spirited educators, organisers, planners and support staff who have contributed to the longevity and success of the programme over more than 30 years."
Ikateleng project manager Celeste Rossouw says the project's main objective is to improve learners' overall examination results to meet the admission requirements to enrol at tertiary institutions.
"Through the help of companies like the Eskom Development Foundation, we have helped thousands of learners," says Celeste, adding the relationship with the foundation is in its third consecutive year.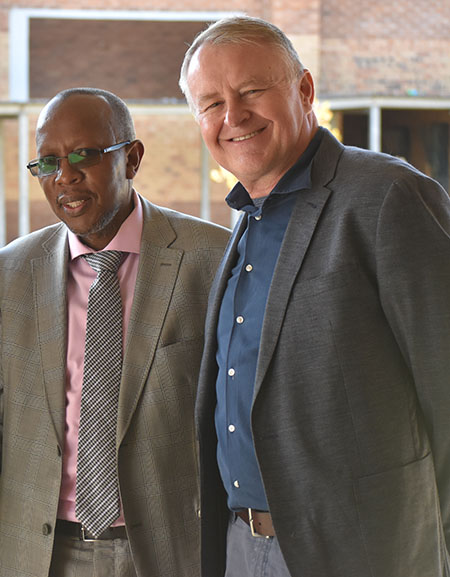 Eskom Development Foundation CEO Cecil Ramonotsi and Ben Zaaiman, senior manager in the NWU's Development and Fundraising department.