A writer will often say that they find writing more difficult than the average person, but for North-West University (NWU) student Erica Harris writing is seemingly effortless.
Erica, who is pursuing a master's degree in media studies, was recently announced as the winner of the RSG and Sanlam Radio Drama Writing competition.
"I really enjoy writing radio dramas and I've entered this competition before, but some of my attempts weren't always successful. Being named the winner this time, is a major deal for me," she says.
Hailing from Fort Beautfort in the Eastern Cape, the 27-year old obtained her BA degree in communication and English in 2013, and her BAHons degree in journalism in 2017, both cum laude. Erika was also named top student in both her journalism and communication honours classes.
Her master's degree focuses on queer representation in mainstream media, an issue she is very passionate about - both as a writer and member of the LGBTQI community.
No stranger to accolades, Erica was rewarded twice as a young writer under the age of 30. The first time was in 2015 for her radio drama Die eksentriekes, and the second in 2017 with another drama, Oorlewing-C-blok, which was adapted into a screenplay in 2018 for a television movie with the same name. In 2020, her stage play Medium Rare-Lirieke vir Jamie en Danny premiered at the Toyota US Woordfees.
Erica describes herself as a homebody who prefers her own company. She spends most of her time at home, and when she isn't studying or writing, she watches television and reads.
"When I do venture outside, I enjoy spending time with close friends and family - I am blessed to have wonderful people in my life."
Erica says she is very grateful to her parents for supporting her both emotionally and financially. "I love studying and I appreciate being able to do it fulltime, thanks to them."
Erica would also like to thank her supervisor, Hannelie Otto, and her co-supervisor, Annemi Conradi. "They are extremely supportive and invested in my studies, and I am blessed to be able to work with them."
More about the RSG and Sanlam Radio Drama Writing competition
The annual RSG and Sanlam Radio Drama Writing competition has been running for 25 years. It is the oldest drama competition in South Africa and promotes and awards Afrikaans radio dramas. The competition has nurtured the Afrikaans arts industry for decades, creating jobs for writers, actors and directors.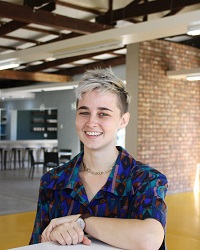 Erica Harris