According to Stats SA's 2022 report, young people in South Africa continue to struggle to enter the labour market with an unemployment rate higher than the national average.
According to the Quarterly Labour Force Survey (QLFS) for the first quarter of 2022, the unemployment rate was 63,9% for those aged 15 to 24, and 42,1% for those aged 25 to 34 years, with the official national unemployment rate at 34,5%.
As the country celebrates Youth Month during June, the North-West University's (NWU's) Faculty of Economic and Management Sciences decided to do its part towards growing youth employment.
The faculty, in partnership with the Legae Child Care Centre, hosted a Youth Empowerment Workshop on 4 June 2022 at the Rhema New Life Church in Mahikeng.
The purpose of this workshop was to assist young people on how to write CVs, help them with job applications, teach them interview skills and about professional behaviour in a work environment.
During a panel discussion, the faculty's Dr Kezell Klinck, together with Memorie Herhold and Rhoda Mashapo from the Legae Child Care Centre, answered questions from the youth about the difficulties they experience when applying for jobs.
Dr Klinck says the focus should be on various youth development and empowerment initiatives to support young people.
"This time we decided to gather everyone in one room and assist as many people as possible, instead of helping young people on a one-on-one basis," says Dr Klinck.
"This approach was a great success, with approximately 70 young people attending the workshop. We also received very positive feedback.''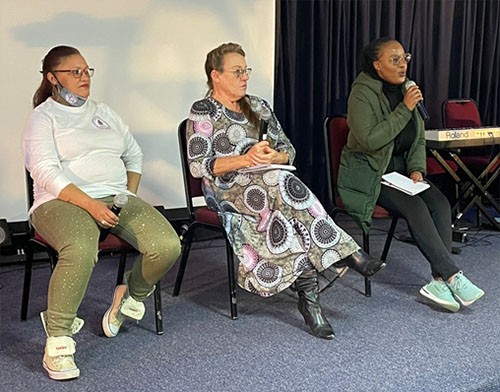 Dr Kezell Klinck from the NWU, and Memorie Herholdt and Rhoda Mashapo from the Legae Child Care Centre, address questions from the youth during the workshop.