As South Africa celebrate Heritage Month, North-West University (NWU) academic and acting director for the Centre for Indigenous Knowledge Systems, Dr Motheo Koitsiwe, says there is a need for the country to celebrate its own indigenous languages.
"It is important to restore African indigenous languages, especially since language plays a vital role in promoting unity, social cohesion and Ubuntu," says Dr Koitsiwe.
"In addition, we need a new pedagogy that will embrace a curriculum that recognises the value and significance of African indigenous languages in teaching, learning, research and community engagement.
"African indigenous languages can no longer be negated, marginalised or viewed as a problem or old fashioned, but should be considered as a resource. This is part of the decolonisation of the education curriculum and transformation which promotes equality, fairness and natural justice."
According to Dr Koitsiwe, part of promoting the culture of reading and writing is to establish community networks on African indigenous languages, open community based reading clubs, community libraries and online access to books, articles and journals written by African writers and scholars.
"In this time of the 'new normal' and the 4th Industrial Revolution, it is pertinent that African indigenous languages are used as one of the strategies to promote African indigenous knowledge systems in the global knowledge economy," adds Dr Koitsiwe.
He says in celebrating the role of indigenous languages, we must take into account that South Africa has developed legal frameworks such as the Constitution, the Commission for the Promotion of Culture, Religions and Languages, and the Pan South African Language Board to promote multilingualism, develop all the official languages of the country, and to protect language rights.
2020 Heritage Month
Heritage Month is celebrated annually in September to foster social cohesion, nation building and a shared national identity.
The 2020 Heritage Month is celebrated under the theme, "Reclaiming, restoring and celebrating our living heritage". This theme is in line with UNESCO's declarations of 2019 as "the Year of Indigenous Languages" to afford the international community to develop, promote and to collectively celebrate indigenous languages.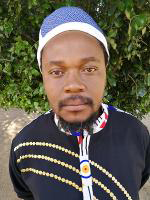 Dr Motheo Koitsiwe.