Over the past five years, the Optentia research unit of the North-West University (NWU) has conducted various research projects about sustainable employment, specifically using the Capability Model of Work.
Prof Jac van der Klink, an extraordinary professor at Optentia, recently delivered a prestigious lecture in support of this research. In his lecture titled "The Sound of Justice", he examined social justice from the perspective of contributive justice - in contrast to distributive justice.
The purpose of science, according to Prof Van der Klink, is to improve the world, not just explain and analyse it. This is consistent with the discipline of occupational practice and the professionals who work in it, who strive to create flourishing work rather than simply comprehend why work is frequently degrading," says Prof Ian Rothmann, director of Optentia.
According to Prof Rothmann, science must provide practical tools to assist professionals in their work.
Prof Van der Klink advocated for a theory and practice that prioritises social justice over financial-economic goals. "This corresponds to the capability approach, focusing on a valuable and valued life and normativity, diversity, and contextuality as core values."
He explained that contributive (and not only distributive) justice is important to provide opportunities for an inclusive and diversified work environment. Watch a short video about the Sound of Justice here.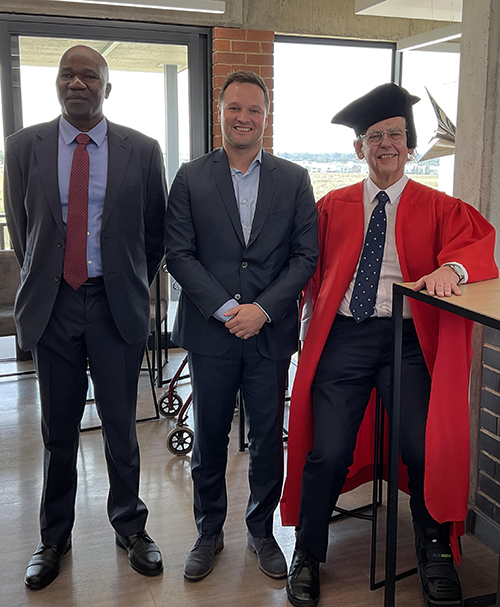 From left are Prof Dumi Moyo, the executive dean of the Faculty of Humanities, Berto Bosscha, education and science attaché of the Netherlands, and Prof Jac van der Klink, extraordinary professor at Optentia.