Chris Prinsloo was but five years old when his family uprooted from Belville in Cape Town to the United Kingdom, then back to the heart of KwaZulu-Natal a few years after, before settling in the Paarl, back in the province where it all started.
His father's job as a psychiatrist necessitated all these moves, but although his terra firma kept changing, there was one place where he found his footing: in the water.
"I've always enjoyed swimming, then I started sailing which brought a technical aspect to my love for water sports," says Chris (22). Canoeing soon followed, inspired in no small part by the physique that comes from spending hours toiling with a paddle in hand.
Chris, who is studying law at the North-West University (NWU), is the institution's number one ranked K1 canoeist as well as the NWU canoe club's chairperson.
It is a sport he cherishes for a variety of reasons.
"Canoeing teaches you that you have to be honest with yourself. It teaches you willpower. When you are 10 km into a race and you know that there are 60 km and seven more hours left on the water. Your hands and your body hurt, but you know you have to keep going on."
One of the toughest canoe races Chris has done, is the Berg River Canoe Marathon that encompasses 240km over four days from Paarl to Velddrif.
"When you are on your canoe, you see places you never thought existed. It is like going back in time." It is these moments – when he spots an unsuspecting fish eagle, or when he is surf skiing surrounded by dolphins and the odd whale – that he is at his happiest.
That is why he doesn't hesitate to recommend joining the canoe club.
"The key is to try and try and try again. You are going to fall over and embarrass yourself. Just keep going, you are going to love it. As chairperson I want to leave a strong and healthy foundation base for the club and for future canoeists," he says, explaining his goals for the club.
It speaks to integrity, which is the value he holds dearest to his heart. "What a person says is what a person does. If you have a task to complete, you have to clamp down and do it."
Regarding canoeing in the country, he feels the spotlight should be pointed more towards the water: "We have a lot of potential in South Africa, but our sport doesn't get enough opportunities to prove itself."
He lists South African Hank McGregor, 11-time gold medalist winner at the ICF Canoe marathon World Championships, as one of his idols: "His determination is aspirational."
So is Chris's: "I haven't yet achieved the level I want to. It is something I am going to have to work on to change."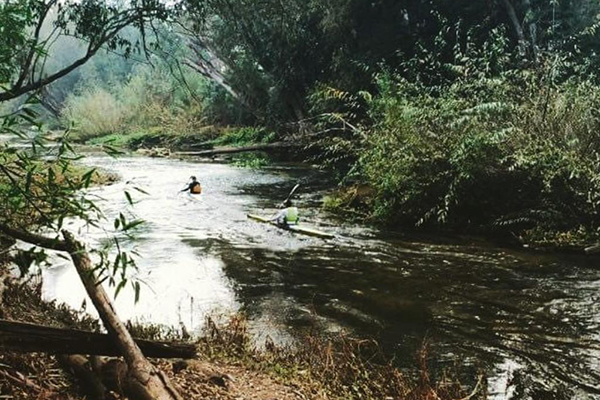 Pure bliss. Mother nature at her most serine.