A group of women from the North-West University's (NWU's) School of Agricultural Sciences recently reached out to unemployed agriculture graduates to empower and motivate them.
This group, Basadi ba Temo Thuo – which means women in agriculture – hosted an information day at the Mahikeng Campus's Molelwane Farm.
The purpose of the event, themed "A re fepeng malapa a rona" (Let's take care of our homes), was to provide valuable insights into daily routine management practices within the agricultural sector.
What made this event particularly noteworthy was that all the activities were facilitated by women, emphasising the role and capability of females in the field of agriculture.
The day was filled with a variety of activities designed to equip participants with essential skills and knowledge. Topics covered included health and safety measures, farm biosecurity, dairy management and production, business planning, egg collection, and cleaning of the layer house.
Participants also had the opportunity to engage in veld condition assessments, soil sampling and analyses, examining live stock, and learning how to grow their own seedlings.
Prof Hilda Mokoboki from the subject group Animal Science says they are grateful to school director Dr Lebo Motsei and farm manager Hannes Lombard for their contributions and support.
"It was also heartening to see male staff members attending and actively participating in the event, reinforcing the importance of collective efforts in advancing agriculture," adds Prof Mokoboki.
She says the information day served as a valuable platform for sharing knowledge, fostering collaboration, and empowering unemployed agriculture graduates with practical skills. "It is an opportunity to show our commitment to nurturing the next generation of agricultural professionals."
At the end of the day, participants left with enhanced confidence and a deeper understanding of the agricultural sector, armed with the knowledge to contribute meaningfully to the field.
Basadi ba Temo Thuo's initiative exemplifies the spirit of collaboration and empowerment that is essential for the growth and sustainability of the agricultural industry.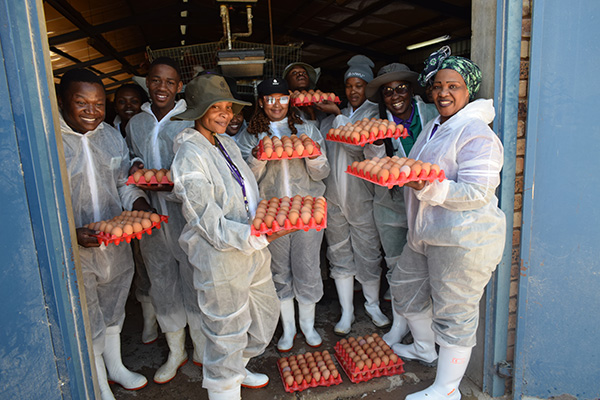 A group of women from the NWU's School of Agricultural Sciences – Basadi ba Temo Thuo – reached out to agriculture graduates.