Another player of the North-West University's (NWU's) Soccer Institute has been scooped up by a professional team. Tshepiso Mahlangu joined Tuks FC in January 2023.
Tuks FC, a South African Association football club representing the University of Pretoria, currently plays in the National First Division.
Tshepiso, who captained the NWU team during the 2022 Varsity Football tournament is the second Soccer Institute player to be signed by the Pretoria-based team. Thabo Mnyamane joined Tuks FC in 2013.
Tshepiso completed a BCom degree in management sciences with business management at the NWU and will be graduating this year.
Asked how he felt about joining a professional team, Tshepiso said: "Playing professional football has always been my dream, but I knew that I needed to graduate first before I could even think of joining any club. Therefore, it's a huge privilege and an honour to be part of the professional ranks of South African football, but for me the work is only just getting started."
"I cannot merely be satisfied with joining the club, I need to build a career for myself as I am aiming for longevity in the game.
"I also want to thank the Soccer Institute for the platform and the exposure it has provided me," added Tshepiso.
NWU Soccer Institute coach Karabo Masehela says he is happy that Tshepiso joined Tuks FC.
"It shows that we are still on the right track in attaining our original objective to produce professional footballers with academic qualifications. I am quite confident that Tshepiso will do well at Tuks."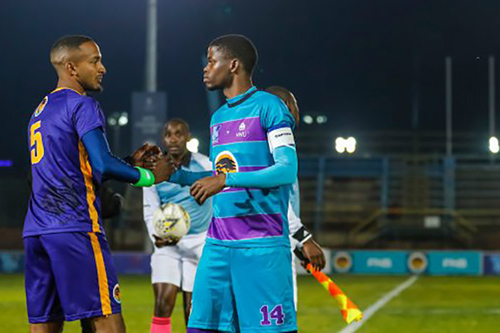 Former NWU captain Tshepiso Mahlangu during a Varsity Football game against Wits in 2022.