The earlier kidney disease is detected, the more effectively it can be treated. Anja Degenaar, a master's student in physiology at the North-West University (NWU), has set out to identify the biomarkers which will indicate deteriorating kidney function in young South Africans, ensuring early detection and treatment.
"The global prevalence of chronic kidney disease (CKD) is becoming an increasing concern, especially since CKD is expected to be the fifth leading cause of mortality by the year 2040," she says.
"Low and middle-income countries are also burdened by a high CKD prevalence, mainly because of poor public healthcare systems, a lack of sufficient medical resources and a high prevalence of cardiovascular diseases."
Anja's study, "Cardiovascular risk and kidney function profiling in young adults using conventional and novel biomarkers: The African-PREDICT study", aimed to profile cardiovascular risk factors and kidney function of young adults using conventional and novel biomarkers*. The study also compared these biomarkers of kidney function across different age groups.
According to Anja, the high prevalence of cardiovascular diseases is closely associated with CKD, since several cardiovascular risk factors such as age, obesity, hypertension, diabetes and dyslipidaemia can promote the development of kidney damage in young adults.
"To the best of our knowledge, no studies have investigated the association between different kidney function biomarkers, cardiovascular risk factors and age categories in a young and healthy study population," she says.
Some of the biomarkers in Anja's study have been shown to be highly effective in monitoring kidney function.
"Recently, the CKD273 classifier has been found to be a superior kidney function biomarker as it can detect subcellular changes in kidney function and predict the development of CKD at an early stage," she says.
"However, the use of such a top-precision biomarker is not always feasible in low- and middle-income countries due to the high cost associated with the necessary specialised equipment. Therefore, it is important to investigate both conventional and novel biomarkers in a young South African population to determine which biomarkers are the most feasible to indicate early deterioration in kidney function, when intervention is the most effective," adds Anja.
Her study concluded that more unfavourable kidney function was associated with cardiovascular risk factors such as higher age, greater adiposity, elevated blood pressure and adverse lipid profiles. Furthermore, even in young (20-30 years of age) and apparently healthy adults, different kidney function biomarkers can already indicate a decline in kidney function.
*The conventional biomarkers in the study are estimated glomerular filtration rate (eGFR) and urinary albumin-to-creatinine ratio (uACR), while the novel biomarkers are alpha-1 microglobulin (A1M), neutrophil gelatinase-associated lipocalin (NGAL), uromodulin (UMOD) and the CKD273 urinary proteomics classifier.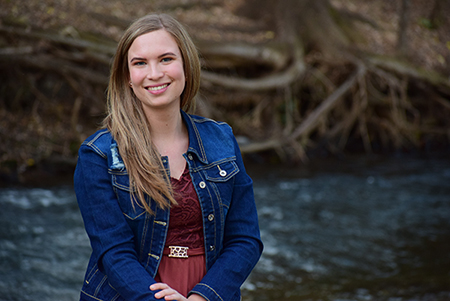 Anja Degenaar.
Written by Phenyo Mokgothu