North-West University (NWU) graduate, Mareli Joubert, is beaming with pride after she was awarded a 2021 Chartered Institute of Management Accountants (CIMA) Excellence Award for being the top student in Africa in the Management Case Study exams in November 2020.
CIMA is a global professional management accounting body.  
The 23-years-old holds a BCom and a BComHons in management accounting from the NWU. She completed her CIMA Tier 1 and 2 (Operational and Management Tiers), and is currently busy with her Tier 3 - Strategic Management. Mareli also holds a national certificate in banking from ABSA Ltd.
She says this award is a valuable addition to her Curriculum Vitae.
"Initially, when I received the news, I was shocked, but I am honoured to be the recipient of this award. Even though I've always viewed myself as an average student with average marks, I worked very hard while studying, and this reward is proof that all the effort was worth it," says Mareli.
She adds that this proves that she can think outside the box and apply her knowledge in the workplace.
She says it also shows her perseverance and is another step in her journey to complete her studies and become a chartered global management accountant. Mareli advises accounting students not to seek instant recognition for their efforts.
"Work hard, and eventually your efforts and determination will be awarded – even if it is only one employer allowing you to open a door to your future.
"If you are an average student, keep working hard, because persistence eventually contributes to your goals and purpose. Always remember to deliver more than expected; that will differentiate you from the rest," she recommends.
She reveals that her future career plan is to complete her three-year accounting trainee programme at ABSA, where she currently works.
"I am currently enjoying my time in the banking industry. It is a great privilege to be part of this programme that may open many doors to great career opportunities. After that, I will see what comes my way," says Mareli.
"I would like to be a business owner someday, and working in another country also appeals to me," she says.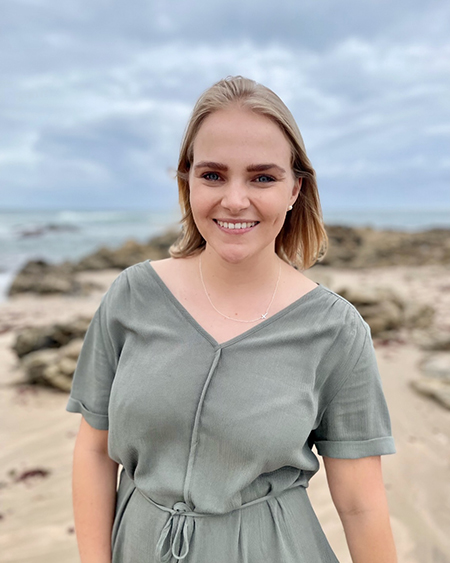 Mareli Joubert.