Research professor Howard Chitimira and postdoctoral research fellow Dr Elfas Torerai, both from the North-West University's (NWU's) Faculty of Law, presented papers at the 18th International Association of Consumer Law (IACL) Conference that took place from 19 to 21 July in Hamburg, Germany.
Their session focused on the African perspectives on financial consumer protection.
Prof Chitimira's paper was titled "The role of financial education in the promotion of protection for poor consumers of digital financial services in Zimbabwe".
"A legal analysis of the 'Finance Plus' approach in the promotion of financial inclusion and consumer protection for the poor in Zimbabwe" was the title of Dr Torerai's paper.
Session chairperson Prof Kathleen C Engel congratulated the NWU academics, saying that their session was the best she attended during the entire conference.
Dr Torerai says it was a pleasure to meet colleagues from all over the world and to engage in scholarly debates - sharing experiences and perspectives from both emerging and developed economies.
About the IACL
The International Association of Consumer Law was founded as a bilingual association to foster learning and debate on consumer issues and law. It is an association primarily for academics which aims to develop networks and to stimulate research projects in consumer law and policy and consumer relations, covering all regions of the world.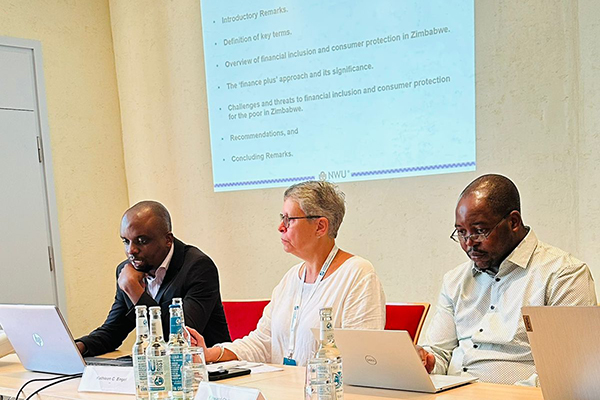 Dr Elfas Torrerai, Prof Kathleen C Engel and Prof Howard Chitimira at the International Association of Consumer Law (IACL) Conference in Germany.