By Menziwa Msibi
The 2023 Bua! Poetry Competition Slam sparked a surge of creativity across the North-West University (NWU). The Creative Writing subject group in the School of Languages launched its inaugural intercampus Bua! Poetry Slam session across the three campuses earlier this year.
The Bua! Poetry Slam featured three distinct poetry competitions, each one hosted on a different campus. The Potchefstroom event took place on 5 April, followed by the competition in Vanderbijlpark on 3 May, and the Mahikeng competition on 25 August.
The 2023 intercampus Bua! Poetry Slam builds upon the achievements of the Creative Writing subject group's pioneering Bua! Poetry initiative.
The winners of each campus poetry slam received student bursaries. Potchefstroom's slam champ was Anga Nkhwashu, while Thato Neo Lelosa walked away with the spoils in Vanderbijlpark. Lebone Nchoe was victorious at the Mahikeng Campus.
The Poetry Slam's primary objective is to create a secure public forum for poetic expression. In this forum NWU students can delve into their cultural identity within a multicultural context while communicating in their preferred languages and fostering intercampus connections. Dr Pieter Odendaal, a senior lecturer in Creative Writing, spearheads this initiative.
In 2024, BUA! Poetry plans to launch a student poetry anthology to showcase the work of the poets who performed, as well as other poets on the campuses.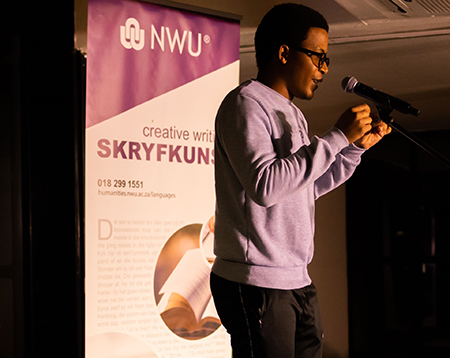 Lebone Nchoe walked away victorious as Bua! Poetry Slam champion at the Mahikeng Campus.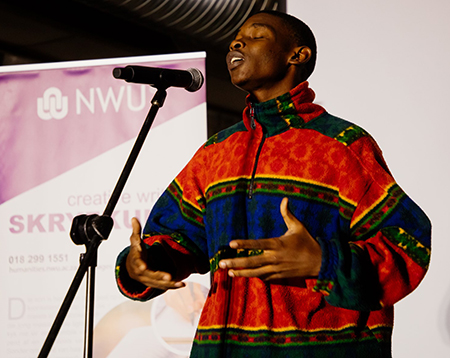 Anga Nkhwashu was announced the winner on the Potchefstroom Campus.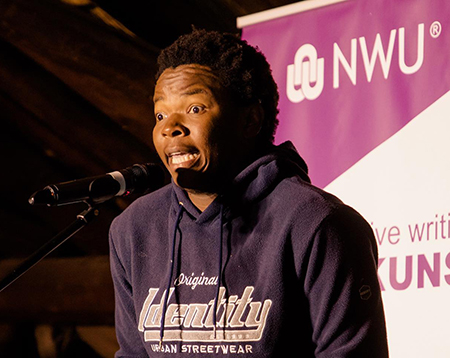 Thato Neo Lelosa walked away with the spoils at the Vanderbijlpark Campus.