Young karateka aims for gold
Many karateka dream of it but very few ever have the opportunity to visit the Land of the Rising Sun. Stephen Moeketsi, a final-year BEd student of the North-West University (NWU) is one of the lucky few who gets to visit the home of karate: Japan.
Stephan (25), a student at the campus in Vanderbijlpark, recently qualified to represent the University Sport South Africa (USSA) team at the prestigious World Karate Dream Festival 2018 that is set to take place in July. He will be participating in the under-70kg category.
Opportunity of a lifetime
According to Stephan the trip to Japan will be his first international travel experience and he is excited to make the most of this "once in a lifetime" opportunity. As a black belt first Dan, Stephan is skilled in martial arts and has been practicing the sport since the age of 14. "I was an angry teenager and I decided to channel my anger through karate," says Stephan and adds that the sport has taught him discipline and focus. "I have never looked back. Today, I live and breathe karate."
What makes the achievement of this young man from Sebokeng in Vanderbijlpark even more remarkable is the fact that he is mostly self-taught. Asked what the difference is between an average and an exceptional martial artist, he answers: "Commitment, humility, patience, respect and a love for the sport."
On katas and training
According to Stephan and contrary to popular belief, katas (detailed choreographed patterns of movements) form an integral part of any martial artist's training. "It is also called pre-arranged fighting," explains Stephan and elaborates that one performs fighting moves while visualising your opponent standing in front of you.
Come July, Stephan and his teammates will have to be on top of their game, because the tournament is a full contact (Kyokushin) event. The only rules are that you do not punch an opponent in the face, kick under the belt, strike an opponent who is down or has his back turned towards you.
Stephen is currently heading up the Vanderbijlpark campus's karate club and training sessions take place on Mondays, Tuesdays, Thursdays and Fridays, from 17:00-18:00. For more information about the club contact Stephen on 063 708 1522.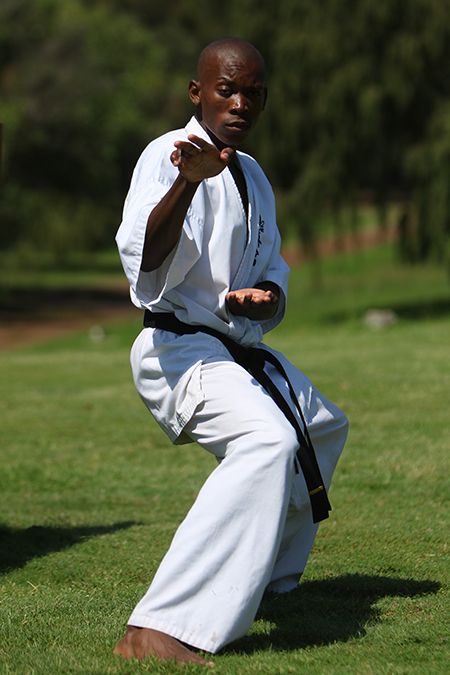 Stephen Moeketsi from the NWU's campus in Vanderbijlpark has been selected to compete at World Karate Dream Festival that will take place from July in Tokyo, Japan. Photo: Ettienne van Rensburg.