USSA 2017: a slam dunk for NWU Vanderbijlpark
The ladies basketball team of the North-West University's (NWU's) campus in Vanderbijlpark proved their mettle on the court during the recent University Sport South Africa (USSA) Championships which took place in Stellenbosch. The team enjoyed a good run and achieved the third position overall.
In their campaign leading up to the semi-final leg, the team from Vanderbijlpark schooled their counterparts from the Durban University of Technology (67-31), NWU Mahikeng (81-16) and the Cape Peninsula University of Technology (64-41) on the game of basketball. The team suffered two losses: one against local rivals Vaal University of Technology (26-50) and another against the University of the Witwatersrand (49-78).
In the play-off for the third and fourth standing, the team from the NWU Vanderbijlpark beat the University of Pretoria by 48-33 and finished the championship in third position overall. Nocwaka Luke – a member of the All Star team, was awarded as the tournament's Top Scorer.
Another highlight of the event was the election of Mr Frans Matloga – the NWU Vanderbijlpark coach, as the new USSA Basketball Chairperson.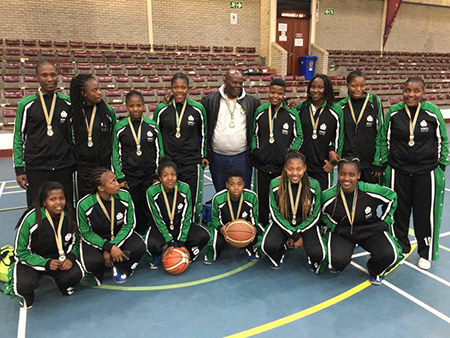 The NWU Vanderbijlpark basketball team with their coach, Frans Matloga.